Authentic Mexican Jewellery Cocktail Opening PRATA
by Rocio Gonzalez
(Marbella)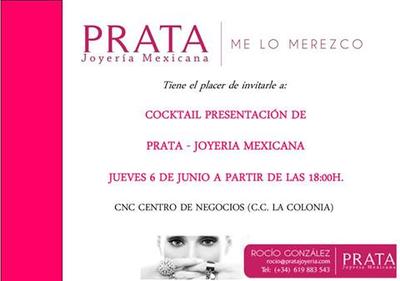 Authentic Mexican Jewellery PRATA
We are very glad to invite you to our first authentic mexican jewellery cocktail opening PRATA event.


SILVER MEXICAN JEWELRY PRODUCTS FOR SALE: RINGS, BRACELETS, NECKLACES, PENDANTS AND EARRINGS...EXCLUSIVE DESIGNS!!!
Date: Thursday June 6th 2013
From: 6pm...
Location: CNC Business Center "La Colonia" (in front of
Passion Cafe
)
Click here to return to: A: READER INPUT - create a page.