700 students from 11 international schools compete in an exciting Inter-school Football tournament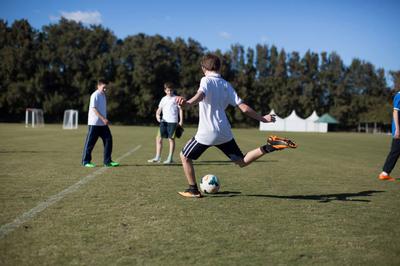 During March 2014 more than 700 students will be travelling from as far as Rota and Almuñecar to compete in Sotogrande International School's Inter-school football tournament at the school's El Rio football pitches. 11 international schools are competing in this fun and motivating event in the beautiful setting of the Santa Maria Polo fields.


This event is one of the biggest international school events of its kind in Europe and the first time many young international students from the Malaga and Cadiz provinces will have ever played competitive football against other schools. Girls and boys from 7 to 16 years old will be competing in 230 matches over three days.
Wed 12 March 10.30-13.30 - Girls M1/2 and M3/4 - 7 schools, 14 teams
Thurs 13 March 10.30-13.30 - Boys & Girls P3/4 and P5/6 - 7 schools, 28 teams
Wed 19 March 10.30-14.30 - Boys M1/2, M3/4, M5/D1- 11 schools, 32 teams
Visitors are invited to come and watch the matches and enjoy a coffee at La Quinta. More information about sports at Sotogrande International School www.sis.ac