Valentines night at Da Bruno sur Mare, Marbella 14th. February 2014
by Morris Bishop
(san Pedro de Alcantara)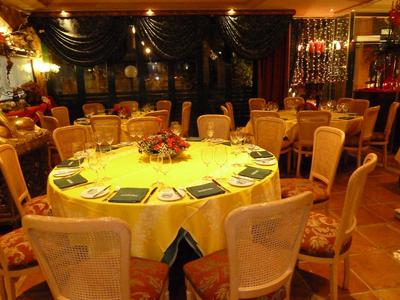 part of the dining room
We were two couples enjoying a night out at one of my favourite restaurants in Marbella, and it is probably unfair of us to say that the highlight of our evening was listening to the voice of an 18 year old diva to be, who is still studying in the Malaga Conservatory of music. I say unfair, because the ambience, cuisine, service, and entertainment, were all of such a high standard as to be faultless. I rarely wax lyrical to this extent about an eatery, but this was an evening that will linger in my memory for a very long time.


Giuseppina, Bruno and their team certainly know how to put on a 'feel good' event, and this was no exception for the full house of nearly 300 dinners that were celebrating with their loved ones. They even had to put 4 extra tables on the dance floor! Dancing with difficulty (No your not difficult darling, honestly).
The range of dishes in their extensive menu is almost overwhelming, but like most people, we have our food preferences for particular restaurants, Besides the normal menu, they had a special Valentines menu, though as it happens, we all chose from the former. We each had two of our favorites, a half portion of Spaghetti Bolognaise followed by Escolopines Marsala for me, and for my much better half, Lobster bisque and calves liver. All were perfect.
The entertainment was the very accomplished husband and wife team of Pilar and Carlos, but this time with their daughter Claudia Sierra who sang arias from popular operas, ending with the almost obligatory 'Nessun Dorma. As she began, it was with incredulity to think that a teenager could have such a mature, beautiful, voice, such, that someone at an adjacent table said to his wife " She must be miming, surely". I will only say that I hope I am still around when, in three years time, she will start her professional career.
The stats.
This is the flag ship restaurant of the Da Bruno empire in the Pyre Building on the Paseo Maritimo in Marbella. There is adequate underground parking in the road opposite Parque Marbella. Reservations on 95290 3318/9. They open every day from 12pm. to 12 am
Web site www.dabruno.com Email sulmare@dabruno.com
Bishlin marks out 5:
ambience, menu, service, food, value, and price (for this evening) straight 5's