Umami Bar Restaurant and Grill San Pedro de Alcantara
by Morris Bishop
(San Pedro de Alcantara)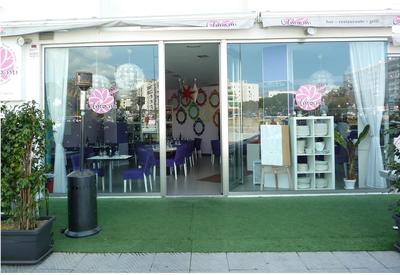 Restaurant Umami
Umami Bar, Restaurant, and Grill San Pedro de Alcantara March 2013


This is one of San Pedro's newest eateries that friends had said to me "you must try it", and so we did. Swedish born Lee Varhos has been involved in many food activities in the San Pedro area, starting with the
Passion Café
in La Colonia then to Lee's Bistro and Lees Deli both in Centro Commercial Guadalmina. Then back to La Colonia to open his first Umami. In Dec 2012 he moved to a more auspicious location right in the heart of town, on the central roundabout above the tunnel.
"Eclectic" is the only word that can be used to describe, not only the décor, but the menu and the food as well. The hotchpotch of paintings, with a host of funky light fittings, painted trees and lots of quotations in ring frames, not to mention some green geckos on the wall, somehow it all works!
The menus takes a bit of getting used to. Gone are the formal starters and Mains, but instead there are snacky things, ponchos, tapas, amongst which are Brie, pear, Walnuts and Lingon berries, Smoked Salmon with Egg and mustard, a Duck Pate, grilled Holoumi Pesto, and beef in a red wine sauce. Then there are 8 mini burgers made from Chicken, Beef, Lamb, Duck, Salmon, Tuna, Tuna, Thai curry fish or fillet Steak, each served with an appropriate sauce. There are half a dozen Salad dishes (these are quite large, and if for starters, could easily be shared)
Then an eclectic group for sharing of Fish, Meat, or Vegetables and finally a choice of an Argentine Entrecote, Filet of Beef, New Zealand Lamb, or a 200gr, burger, served with all the trimmings. I counted 12 veggie items on the menu which is a considerable improvement on most other restaurants.
There are two other food menus to consider, one, is for the specials and contains dishes from around the world, the other is for the Sushi bar. This has some 30 dishes including a mixed sushi and sashimi special.
A good selection of mainly Spanish wines are on offer, the house red is Crianza from Rioja, the white is Verdejo and an unnamed rose all at 12.50€ a bottle or 2.50€ by the glass, or if your splashing out. Try the Muga.
Of the eight deserts on offer, we tried the Banana cheese cake (delicious) and the rather strange Tiramisu made with passion fruit and white chocolate! Nice but more like a trifle.
We were most impressed, after having eaten twice at Umami, with the presentation, the quality of the food, attention to detail, and the taste. Apropos this, the restaurant's name UMAMI is one of the 5 basic tastes of sweet, sour, salty, and bitter and it is derived from the Japanese word for savory.
The restaurant has a pleasant bar area along side which is a high table with bar stools for the more snacky – sushi meals. They can seat 30 inside and a further 8 on the pavement outside. They open for lunch and dinners every day except Sunday.
The head waiter is Guillermo who speaks excellent English Under normal circumstances' there is plenty of Parking on the waste ground opposite or, there is the underground car park on the other side of the round about.
They are adjacent to the pharmacy that is on the central roundabout above the tunnel. in Avd. Mediterraneo
For reservations call 95278 0114 or 637 558 927
email umami-lee@hotmail.com
Average 3 course with wine 30€
Bishlin marks out of 5:
ambience 3.5
menu 3.5
food 4
service 3.5
value 4 o/a 4
The restaurant is easy to find, but if anyone would like a map to help them find it,
email mobidata@gmail.com with UMAMI MAP as the subject.