Traditional Greek Smashing of Plates in the Heart of Marbella at YAMAS Restaurant
by Marbella PR
(Marbella)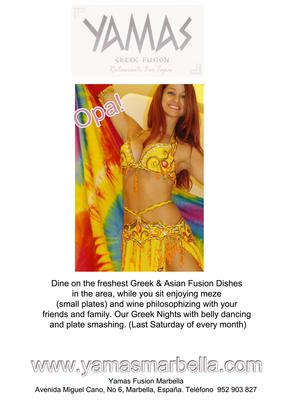 Yamas Restaurant Marbella
New restaurant, hang out and party and function locale...


Wonderful ambience with stylish yet always informal court yard luncheon and candle light dining, Sunday roasts and Early Bird Specials... too delicious and very affordable.
Also, every last Saturday of the month, there are Greek festivities in the evening with belly dancer, traditional plate throwing and Greek dancing.
Find Yamas, which means to your health, in the heart of Marbella. At the seaside of Av. Soriano, in the street with the horses, adjacent to the Alameda Park. My family and I love it and we gladly take friends and visiting relatives and the children, because there is always s.t. they like.
For more information
Yamas Restaurant
.