The Forge - Finca el Forjador Casares
by Morris Bishop
(San Pedro )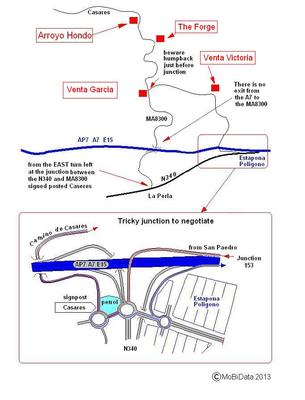 map to help you find The Forge
The Forge - Finca el Forjador Casares April 2013


Don't expect to find a blacksmith or horses being shoed, but you will find the very experienced restaurateurs, Mike & Athene Forge. They opened their restaurant in the mid 1990s, and over the years they have built it into one of the most well known 'Rustic' eateries on the coast. It now has some 40 covers in three dining rooms and a further 30 on the pleasant terrace. Your greeting will usually be by Mike or Anthene at the Bar
The fixed price 3 course menu for 35 euro has a two course option for 27.50 euro including tax.
We tried 4 of the 8 starters, and because I am always looking for 'the unusual', I chose the Mushroom and Bacon Pil Pil and the others, Melon & Serrano ham, Tomato and Goats Cheese salad, and Spicy Lamb Empanadas (pies). All were nicely presented and delicious.
From the mains list of ten, our table picked the Greek Shoulder of Lamb and the Crispy Duck, and I thought the Roasted Boar Rib sounded the most interesting. Unfortunately, although it was very tasty, it was quite 'chewy' and little dry, even though there was a delicious pot of gravy that accompanied it. All of the others cleared their plates with relish!
The portions were more than adequate such that we could not face the eight dessert temptations. The house wine was pleasant enough and all agreed that we would return to explore more of the menu.
The staff were both pleasant and helpful There is adequate parking within the finca grounds, even if you do have a tussle with the trees!
Three possible vegetarian starters and one main dish are listed on the menu
The Forge is on Carretera de Casares km.10,
Reservations are advised, particularly for their Sunday lunch on 952895120
Bishlin marks out of 5:
ambience 3
menu 3.5
food 3.5
service 4
value 4 O/A 3.5
If you would like a map emailed to you send a request for Casares Area map to mobidata@gmail com