Supercar event - 28-29 May 2016
by Marie-Noëlle Communication
(Marbella, Spain)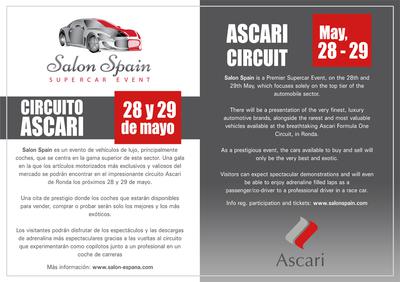 Supercar Event in Marbella
Salon Spain is a premier supercar event on the 28th and 29th May at Ascari Racetrack, in Ronda.


DATES: 28-29 May 2016
LOCATION: Ascari Racetrack, Ronda
WEB:
www.salonspain.com
EMAIL:
info@salonspain.com
TEL: +34 603 207 688
Salon Spain is a Premier Supercar Event and the only one to focus
purely on the top tier, premium sector.
It is the only event in Spain where owners and potential buyers can view the majority of current super & luxury car brands all together at
the same time on one lawn or in motion as they parade on the grounds of the Ascari Circuit in Ronda.
Salon Spain is a luxurious hospitality-only event appealing to discerning guests, collectors, buyers, owners and enthusiasts who prefer a more intimate and engaging experience rather than the crowds and queues normally associated with motoring events.
It is a presentation of the very finest automotive and luxury brands as
well as the rarest and most valuable cars and motorcycles, all of which will be beautifully displayed on the spectacular Ascari Circuit.
On top visitors can expect numerous spectacular demonstrations!!
The move to the Ascari Circuit now takes this opportunity one stage
further with the introduction of the test drive and demonstration facility allowing clients to work closely with their partners and retail groups pre-booking appointments with potential customers.
Salon Spain is already a widely recognised event that attract some of
the most prolific classic car collectors from around Europe and this prestigious event will be renowned as an event where the best cars
can be seen…and sold, or bought!
The first Salon Spain will take place on:
- Saturday 28th and Sunday 29th of May.
The second Salon Spain is scheduled for:
- Friday 16th and Saturday 17th of September.
For both days is allowed on a first come, first served basis.