Step by Step Networking for a more sustainable local economy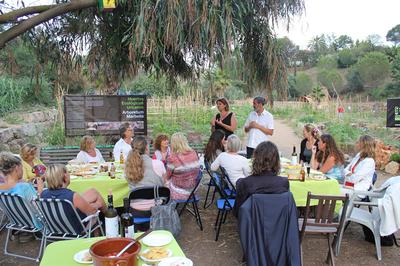 Environmental charity Arboretum Marbella is organizing a special networking event to promote social entrepreneurship and raise money for their campaign 'step by step to make a dream come true' to raise money for their Domo Confianza. The event will be held in Arboretum's stunning edible garden on Wednesday 10th September from 18.30-20.30hrs.


One of the main goals of Arboretum is to promote sustainability, not only in their gardens and park but also in other aspects of society. Part of a sustainable economy is the existence of a strong local business community. With this special networking event, people from different networking groups will come together to expand their networks even further and create a new more sustainable community.
The evening will consist of informal networking while enjoying refreshments, courtesy of Queseria Sierra Crestellina and Ecological shop Tierra del Sol, a speed networking session and group discussions about sustainable business practices and developing a strong local economy.
Participating in this event costs 20€ per person, which will be donated in full to Arboretum's latest initiative to create the first classroom in Andalucía made using the principles of bio-construction. This 140m2 dome (Domo Confianza) will act as a classroom for the thousands of children that visit Arboretum every year, various courses and events and it will also be an incredible space for local business partners to use.
Arboretum is currently fundraising to build it through their 'Paso a Paso x un sueño/Step by Step to make a dream come true' campaign. Arboretum's Director Alejandro Orioli will participate in Marbella 4Days Walking, dressed as a tree, and the steps he takes will be sponsored by the public at 0,20€ per step. The 20€ entrance fee will cover 1.000 steps.
Supported by local networking organisations
The Step by Step Networking event is in association with networking groups Costa Women, Tweet Marbella, Ellas (Empresarias Holandesas en la Costa del Sol), Marbella Dutch Business Club, Internations, Malaga Business Minds, Luks Marbella, Business 1st and International Networking Estepona. It is open for all those interested in getting to know other entrepreneurs as well as getting inspiration on the possibilities of a new social and sustainable entrepreneurial culture to regenerate the local economy.
Sponsoring the Campaign
Arboretum is also looking for business partners to sponsor the dome, promote their business and have the use of this space for a donation of 250€. In return for this donation, the Director of Arboretum will come to your premises dressed as a tree for a photo which will be posted on their website and shared with over 5,000 fans on Facebook and be available for PR purposes. In addition this amazing dome will be available for the businesses' use for one day free of charge for a corporate event, training or promotion.
Please RSVP to maria@arboretummarbella.com by Monday 8 September if you wish to attend the business networking event.
To support the construction of the DOMO and find out more visit www.pasoapasoxarboretum.org