Stand Up Paddle in Marbella, haven't tried yet?
by Sergio
(Marbella, Malaga, Spain)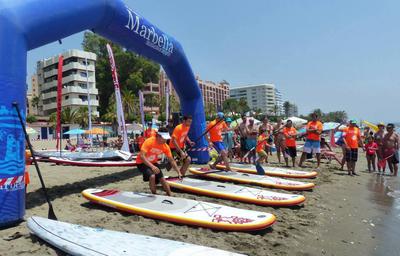 Marbella SUP Festival 2014
One of the most amazing water activity we can practice along the Costa del Sol and of course in Marbella is the Stand Up Paddle, Paddle Surf or SUP.


You probably have see those crazy people paddling through the coast stand up on their paddleboards or doing a SUP Yoga session on the calm water or even catching some waves and surfing them with a paddle. For sure you have saw them with a big smile and having a blast while doing some good exercise.
The Stand Up Paddle is an easy, fun and very complete activity that you can practice in any water area, like rivers, lakes, big pools and specially in the sea. You will only need a 1) SUP paddleboard, 2) a paddle and 3) we always recommend to include a leash and some flotation device even a helmet while doing SUP River or SUP Surfing... but to begin a board, a paddle and a leash is more than enough to do a nice paddling route.
For those who don't know about the sports or would like to try it there are few schools and points in the area that could give you an initiation course, rent the equipment or even improve your technique to enjoy this sport.
If you are interested in rent or learn how to paddle, we recommend speak to
-
PaddleSurf Marbella
- they are based in the Hotel Iberostar in Marbella. Ask for Florian!
-
Nalusur
- they are based in the Puerto Deportivo in Marbella. Ask for José!
If you are interested in buy your material you can go to
HoeNalu
. An online shop that specializes in Stand Up Paddle and with the help of their SUP Experts will guide to get the best equipment with a good deal. They are based in Marbella so you can visit them any time.
The best part is that HoeNalu organizes SUP Demo tests and SUP competitions in Marbella, you can check their updated calendar with them.
For example next SUP Demo event will be on sunday April 19th, 2015. In the Playa el Cable in front of the nice italian Chiringüito La Dolce Vita.
More info of this event on this Facebook Event Page
https://www.facebook.com/events/456919004460006/
Also there will be a SUP competition on May 31st, 2015 the
Marbella SUP Festival
at the same place, more information on this Facebook Event Page
https://www.facebook.com/events/799421773467254/
So if you are looking to try the Stand Up Paddle, and would like test new boards, get to know about the inflatable paddleboards and have a huge fun with the BigSUP... imagine 8 riders paddling together. Fun is totally guaranteed! Put those days in your calendar to take advantage of this events.
Give it a try and enjoy the most of the sunny days paddling into the Marbella's beaches doing paddlesurf and helping to promote the #keepSUPing motto!