Spyder Industries Announces New Product Lines
by Curtis
(South Jordan, UT)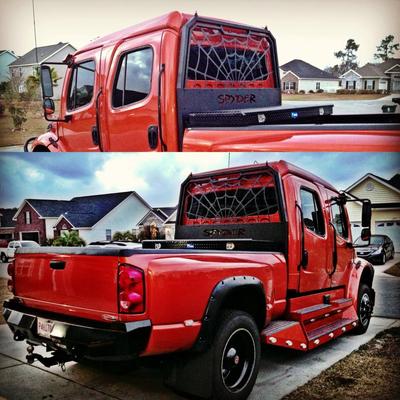 FCC Transport's Freightliner
Quick on the heels of the successful launch of its flagship product, the Black Widow Headache Rack, truck accessory manufacturer Spyder Industries announced that it will be manufacturing some other lines of exterior truck products. Spyder accessories are bolt on exterior accessories which feature an aggressive attention to functionality and design.


Josh Potter, owner of Spyder Industries in Wenatchee, WA, disrupted the traditional headache rack market with an angle cut stealth black bull bar last year. His company is routinely manufacturing custom orders and builds for several vehicle types. Most notable is the custom fit Black Widow rack designed and built for Chris Hanna and Robbie Welsh of FCC Transport.
Other notable products in the lineup are custom fit offroad lights and bars by VisionX, designed to mount easily on the Spyder accessories. Also worth mentioning are the recovery hooks (Spyder's newest addition to the lineup) and the striking exhaust tips featuring the same ode to black widow spiders with the menacing web feature.