Seafood Festival at the Alminar and La Cabana del Mar
by Sissi v.Wittgenstein
(Marbella-Estepona)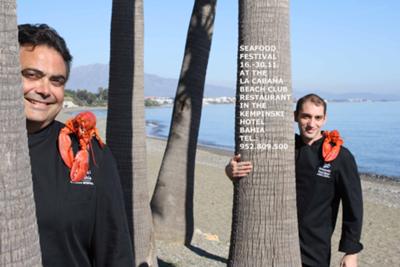 Seafood lover? Come to the Kempinski Restaurants and enjoy our seafood menu! Executive Chef Jordi Bataller (left) and his Sous Chef Carlos Reyes look forward to see you at the Kempinski Restaurants!
This is the time of the year when we enjoy seafood as its best!


Our Executive Chef Jordi Bataller, Sous Chef Carlos Reyes and their team invite you to visit the Kempinski Hotel Bahia during the
17th to 30th of November, 2011
to enjoy our
Seafood Festival
at the Kempinski Hotel restaurants La Cabaña del Mar Beach Club and El Alminar!
View our Seafood image gallery on Facebook: http://www.facebook.com/KempinskiMarbella!
Our Seafood Season Menu:
Galician Style Scallop on Tomato Ratatouille with Parsley Croutons
Gratin and Crispy Iberian Ham
16.00 euro
Grilled Razor Clams with Red Pepper Oil and Fresh Spring Onions,
accompanied with Moorish Avocado Skewers
12.00 euro
Stuffed Sea Crab with Gratin of Mahon Cheese
21.00 euro
Brown Crab, served cold, stuffed with octopus and crab meat salad
18.50 euro
Homemade Macarroni, with a Creamy Cockle and Tio Pepe Sauce
accompanied with a Grilled King Prawn Mini-Skewer
19.50 euro
Lobster Rice Pot
38.00 euro
Belgium Mussels 'a la Crème, served with Potato Slices and Herb Vinaigrette
12.50 euro
3 Natural Oysters with a Glass of Champagne
19.00 euro – (Glass of Cava)
26.00 euro – (Glass of Champagne)
Oyster Gratin with Sherry Wine Sautéed Vegetables
17.00 euro – Glass of Cava
24.00 euro – Glass of Champagne
Suquet Seafood and Wild Fish Casserole
30 euro per Pax – Minimum of 2
PLEASE MAKE YOUR RESERVATIONS:
Tel. 952.809.500
http://www.kempinski-marbella.com
http://emag.kempinski-marbella.com