Screen addiction amongst young people | How to fix it
by Elizabeth Perkins
(Washington, DC)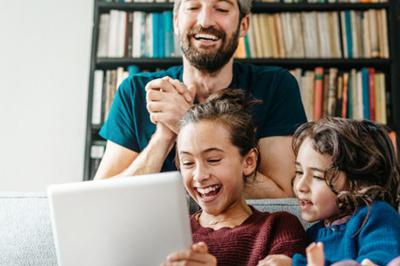 Screen addiction amongst young people
We talk about it time and over again that screen addiction amongst teens and tweens is a real problem, but how well do we know the intricacy of this issue?


Nearly ¼ American tweens or teens constantly use their tech devices and up to 9 hours a day, according to new study by Pew Research Centre. The dynamic nature of cell phone use is what parents should really be worried about.
The problem spreads across every U.S household, according to Delaney Ruston, a physician and filmmaker. In Screenagers, her latest documentary on mental health, she talks about how difficult it is for parents to set boundaries for video games, academics, social media and internet addiction.
What's causing this problem?
Well, it's simple: constant access to mobile devices with no control over the screen time. Parents know little about how to tackle this problem, and in fact, not many parents believe this to be a problem.
It's stirring and bone-chilling in reality. If kids can use their devices all the time, it gets difficult to check on them, especially when they are not around.
Cutting kids' access to their tech is the only solution and a kids monitoring Android app can do it without creating drama.
But before you use a parental control, follow these 3 tips offered by Ruston:
1. Determine if there is actually a problem. Not every kid is addicted to social media, selfies, videos and dating apps, it's actually a little different for a niche of kids who would just want to stay connected to their friends using online networks.
2. Track down kids cell phone use. Ruston calls for using apps that can track how much time kids spend with their electronic devices. But before you go for it, follow how your kids are using their smartphones and tablets. This will give a much better insight as to what kind of parental control would work best for your family.
3. Make unplugging a bliss, not a punishment. According to another study by Pew, parents reciprocate their kids poor screen habits by alienating their digital devices. Ruston believes that there are other incentives that could be more effective, like pizza night for allowance bonus for a lower cell phone usage.
It's not actually practical that kids spend every moment of their lives with parents of siblings. Therefore, the purpose of using a monitoring app should also be to help kids engage with others in real life. This could be a difficult task, but we can help you!
Parents can be better digital parents, if they are lucky to get their hands onto a reliable and useful parental control tool.
XNSPY: It's reliable and very useful
Parents must be thinking by now that if a parental control app can really help, which one is the best to go for. So, we have made this easier for parents to decide. XNSPY is one great app that can not only remotely access, but also control content on your child's Android cell phone and tablets. It works with all devices that are running Gingerbread 2.3 or higher.
But is this app a better option than other parental monitoring tools? You bet it is! Take a look at a few things that you can do with XNSPY.
• View on-storage data: Whatever your kids are searching or saving on their phones, Xnspy will get it to you, even all the deleted data. You can access phone logs (calls, SMS, emails, contacts, calendar entries, emails etc.) and multimedia like photos, videos and audio recordings.
• Track through GPS: To ensure your kids are better citizens outside their digital lives, they need to be watched on during their offline activities. You can track their real-time location wherever they go. In fact, the app has many other GPS monitoring features like geo-fencing, location logging etc.
• Monitor social media: How kids use social media is one of the biggest threats of giving them access to internet. With your kids interacting with strangers online, they could be stalked by anyone, including predators, cyberbullies or sex-offenders.
• Remotely control monitored devices: With XNSPY, you can decide what your kids can access on their cell phones. You can even lock their cell phones or wipe data off it, if you ever find it necessary to do so.
Take one step at a time
Most parents may find it extremely difficult to setup new digital rules for their kids and to use Xnspy kids monitoring Android app on their smartphones. But it's actually not a very difficult job, if done early, when a child has just started using a cell phone. It's all about taking one step at a time, and remember, it's never too late!
For more on related topics, check out our complete section on
Cyberbullying | How to Stop it
.