Scooter Rally - 3-5 June 2016
by MarbellaFamilyFun
(Marbella, Spain)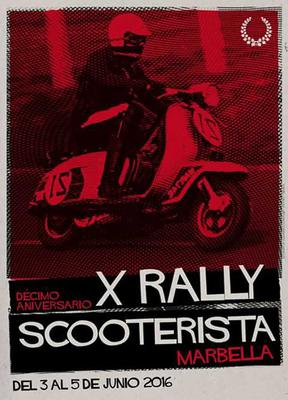 The registration fee is 25 € no automatic bikes are allowed. The meeting point will be Friday from 19:00 pm in the Plaza de la Iglesia of Marbella, there will be open air concert of "Les Tympans" Rhythm, Susi, Steve Spencer and Joseph Costello


Saturday the meeting point will be at 11:00 at Bar Marleys Av. Arias de Velasco to enjoy a route. Sunday their will be another exhibition in the Marbella Marina. Paella and tapas will be served for lunch at Molisse Bar in Marbella.
Inscription contact:
clubscooteristamarbella@hotmail.com
Friday 3 June
18:00 - 00:00: Exhibition of Vespas and Lambrettas. Scooter Opening Party
Casco Histórico / Muralla del Castillo-Plaza de la Iglesia s / n.
Outdoor CONCERT THE Oddballs (Rock / Garage - Málaga) + Dj's guests.
00:00: After Party in Gasoline Café. Puerto Deportivo de Marbella. Dj's guests.
Saturday 4 June
11:00: Meeting Point in Marleys Café. (Antigua Ctra. De Circunvalación. Urb. El Cenit). Welcome snacks. Delivery Gift Bag + Tickets enrolees.
No registrations will be made during the Rally. Please en roll previously.
12:30: Scooterun to Puerto Banus-Benahavís (approx 30 kms way / return.).
13:00: Exhibition of Scooters in Puerto Banus (Square Antonio Banderas). Free time to visit the stools.
14:00: Trip to Benahavis.
15:00: Lunch at La Reserva de Noelia (Cristo de los Molinos, s / n) .Entrega Trophies and prize draw:
- Tourism is a great invention
- Go for the Swedish!
- Mission in Marbella Torrente 2
- That will Marbella, taking the coast!
- Bi-ki-ni Objective
- You only live once
17:00: Beach Party-Expo in Molisse Scooters Bar (Pier 1-Marina Marbella).
CONCERT: The FABULOUS JUNGLE JUMPERS (Smacks Soul / R & B Sharpen - Almería) + Dj's Guests
22:00: Scooter Rally Party to Gasoline Café (Puerto Deportivo Marbella).
Election and coronation "Miss-Mister Dancer'16".
Sunday 5 June :
12:00: Scooter-top-tour: To restaurants "a Más que Tapas y La Polaca"
14:00: Scooter Exhibition in Marina in Marbella
Paella, snacks and barrel in Molisse Bar.