Saturdays in Old Town Marbella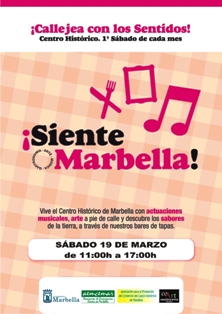 ¡Siente Marbella!
UNFORTUNATELY THIS EVENT IS CANCELED FOR FEBRUARY 4, 2012. THE TOWN HALL CANNOT SAY WHEN THIS EVENT WILL RETURN


In an attempt to increase tourism in the historical center (Casco Antiguo), Marbella town hall is organizing a series of events to tempt the senses with sound, touch and taste called "¡Siente Marbella! Callejea con los sentidos" (Feel Marbella! Wander with the senses).
The event takes place from approximately 11:00am until 3:00pm in Old Town Marbella in the winter hours and from 7:00pm to 11:00pm in the summer. Times vary in between depending on weather conditions and time of year (scroll to the comments section for latest updates on times or visit the
Marbella Town Hall calendar
).
The art exhibitions now take place in Plaza de la Alameda where there is more space.
"¡Siente Marbella! Callejea con los sentidos" is an attempt to bring together art, music and gastronomy to
Old Town Marbella
. The first event included 70 artists, 4 concerts and a total of 22 "gastrobars" scattered throughout the historical center particularly in Plaza de Santo Cristo, Plaza de la Iglesia, and Plaza de los Naranjos. The concerts often take place in Plaza de Puente Ronda, Plaza Altamirano, Plaza la Victoria and the Paseo de la Alameda.
Often times the event features children's entertainment and street entertainers throughout the streets of Old Town Marbella.
Scroll down to the comments for the latest updates.