San Pedro street market
by Marbella Family
(Marbella)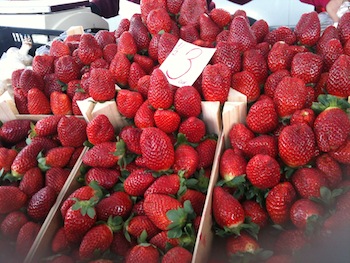 Strawberry season is here!
I just spent my morning at the San Pedro street market and have to say that no trip to Marbella is complete without a visit to the Marbella or San Pedro street market. The Marbella street market in Puerto Banus is held on Saturday mornings, Marbella center street market is held on Monday mornings and the San Pedro street market is held on Thursday mornings. Both street markets start at around 9:00am and wrap up around 2:00pm, so everyone can go and have lunch. I highly recommend you get to the street markets early, particularly in summer, because they can get jam packed and when it´s hot and sweltering you´ll only be thinking about how to get out of there. This is especially true if you´re going with prams, strollers and small kids.


I regularly go to the San Pedro street market for my weekly shopping of fruits and vegetables. The quality and attention you get is way better than any supermarket. You can
taste the produce before you buy it
, so you are sure to bring home the sweetest plums or the juiciest carrots. The prices for produce are not remarkably below the supermarket price, but it is a bit cheaper depending on what you buy. I got box strawberries, which are out of season, for 4 euros, but you can buy mandarins at this time of year (November) for only one euro a kilo.
Today I asked the fruit and veg vendor if he had any
ecological pesticide free produce
and he pointed out lettuce, tomatoes, nuts, oranges, herbs, apples, red peppers and quite a few other items. So if you´re conscious about this, then the San Pedro street market is a great place to get
ecological products
. And the prices are very reasonable for this.
On my way back to my car I managed to squeeze in a pair of shoes for my daughter for only 8 euros and a nice sweater vest for only 15 euros. If I had any more fingers left to hang a bag I would´ve got more Christmas shopping done. There are
so many bargains to be found
and the San Pedro street market is the best place to find souvenirs from a whole flamenco outfit including shoes, fans, great big plastic earrings, and a flower clip for your hair to
ceramic plates, tiles, ashtrays and olive oil bottles. When I visit friends abroad I always stop by the street market to pick up "Spain" t-shirts or Real Madrid uniforms for their kids.
These markets are real Aladdin caves where
you can find just about ANYTHING!
If my daughter needs an outfit for a play to dress up as a pirate, hippie or gypsy I can find it all here for a fraction of the cost that I would pay in a costume shop. You can find not only Spanish souvenirs, but watches, jewelery, scarves, ceramics, linens, table cloths, shoes, clothes (for babies, children, men and women), undergarments, plants, flowers, hammers, nails, buttons, fabric, small electronics and appliances, toys, fake designer handbags and sunglasses, Moroccan souvenirs (lamps, ceramics, small furniture, clothing...), spices, compact discs, produce, hair and beauty accessories, lighters, magnets, hardware supplies, kitchen items, and the list goes on and on. The question is really, what CAN´T you find at the street market.
One nice thing that I really like about the street markets here is the atmosphere. The
street vendors are very animated
yelling "Solo un euro, un euro, un euro!" or "Venga! Compra uno - otro gratis!" (C´mon! Buy one get one free) or you may hear clapping and singing, just about anything to entice you to come look at their stall. Everyone is all smiles and quite friendly, almost as if you´re their best friend they see every day even though they´re seeing you for the first time. It´s nice and makes me feel so fortunate to live here.
The San Pedro street market is located on the local fairgrounds near the BP station off the road to Ronda on Calle Jorge Guillén. You may park on this street or the dirt parking grounds off of Avenida Pablo Ruiz Picasso. If you park in these areas you will find a parking attendant who will guide you to a space. Although he is not an official parking attendant and paying is not obligatory he will ask you for some money as you get out of your car. I usually give him a euro. He´s just trying to make a living.
One last thing...keep in mind that because the street markets get crowded there are a lot of pickpockets out there, so
watch your bags and wallets
.
---
Read more on the
Marbella street market in Puerto Banus