Sacred Motherhood Pregnancy Workshop 14 April 2016
by Lourdes Lorente
(Alozaina, Malaga. Spain)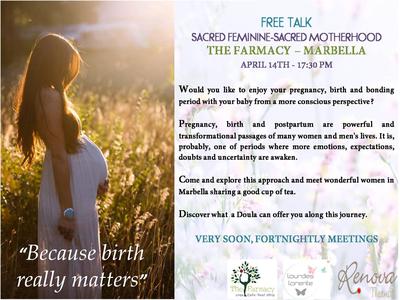 Marbella Pregnancy and Post Pregnancy Workshop
A fantastic opportunity to explore further more what is it a Conscious and respected pregnancy, birth and postnatal bonding period.


If you are thinking of conceiving a baby, are expecting one or you would like to see this transformational passage of a woman and man's life from amore holistic approach, this is the perfect event for you.
Sacred Feminine - Sacred Motherhood is a project that is been created Lourdes Lorente (doula and Professional in Rebirthing) with the aim to expand the consciousness regarding Pregnancy, Birth and posnatal period. It consist of fortnightly meetings at the Farmacy starting in May.
Also on this event you can discover what a Doula is and what can doulas offer you and your family along this journey.