Russian High Net Worth Forum in Marbella - 30 June 2016
by Aksana Kurmanova
(Tallinn)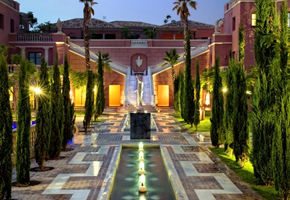 Russian High Net Worth Forum - 30 June 2016
On the 30th of June 2016 Marbella will welcome the annual Russian HNWI Forum Spain – an event dedicated to discussing needs of wealthy families from Russia and former USSR.


Among many different topics such as investment opportunities and wealth protection, representatives of Family Offices, Wealth Managers, HNWIs and Service providers will discuss such topics as De-offshorization and Capital Amnesty, Opportunities for Family Offices in Gibraltar, Isle of Man and Hong Kong as well as Economic Citizenship issues.
Russian Wealth Service Industry will be represented by famous lawyers Dr. Alexander Zakharov (Paragon Advice Group) and Dr. Maxim Simonov (Duvernoix Legal) as well as Family Office CEOs Kirill Nikolaev (NICA Family Office) and Maxim Tafintsev (Golden Crown Family Office).
International Service Providers will be represented by well-known industry professionals James Lasry (Hassans), Barry Monks (Apex Fund Services), Victoria Vella (CS Global Partners), Jeremy Leach (Managing Partners Group), Darío R. A. Iturralde and Diego Donnely (Columbus One), Alexander Voronov (NTL Trust) and many more.
The program is available at: spain.fiforum.com/PWF_Spain16_Agenda.pdf
The event highlight will be Russian Global Citizen Awards Gala Dinner.
The Awards celebrate individuals, companies and governments who have made significant contributions to the freedom of movement, investment and residence. The Award winners have excelled in their industry and country and may reside in any country of the world.
The Awards recognize contributions that have assisted international clients in becoming true citizens of the world. These advances may consist of a specific achievement or a long series of contributions that present the nominee's leadership towards the development of services or creation of new approaches.
Russian Global Citizen Award is delighted to announce Big Brothers Big Sisters St. Petersburg as their 2016 Gala Charity Partner.
Location: Villa Padierna Marbella
Time: Registration: 9:30 AM
Gala :20:00
Information: aksana@hansafincon.com +3727121916
Conference organizer : Hansa Fincon LTD.
Web: spain.fi-forum.com