Quiz Night in Marbella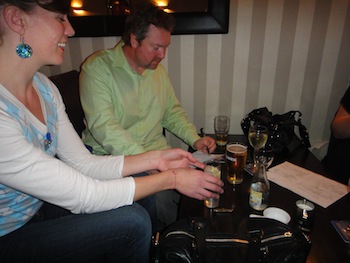 Quiz Night at Hogan´s Stand
Join the fun at Quiz Night held twice a month at Hogan´s Stand Irish Pub in San Pedro de Alcantara, just a few minutes from Puerto Banus. Quiz Night takes place every other Thursday at 8:00pm.


Quiz Night is led by Hannah who creates a quiz format that includes eight rounds on a variety of subjects from literature to food to entertainment and includes a picture round as well. It´s loads of fun that gets your mind in gear and is also a great opportunity to meet new people.
At the end of the night the answers are tallied up and the winner gets a special prize, which are getting bigger and better each time! First prize wins a 40 euro voucher to spend in the bar/restaurant (Hogans Stand/Oscars Restaurant) on a night of your choice. Second prize will be cava and chocolates...
From now on the quiz will be taking a slightly different (and more exciting) format! There will now be 10 rounds, including the picture round and a new round...News & Current Affairs. The team that comes second will win a bottle of wine and a box of choccies. PLUS there will be a rollover Bonus round (costing an additional 1€ per person) where I will ask you all five questions from a Trivial Persuit card. If a team gets them ALL right, they will win all the money. If nobody wins, then the money will rollover to next week!
Teams also have to be FOUR people per team (unless you are happy with less!)
See you all there...and may the best team win!
It is best to park near to Da Vinci's restaurant and walk over the road. It's on what was the N340, a few locals from the corner, and the entrance to San Pedro.
You will have the option to order food off the restaurant menu (and it's YUMMY!) or they are organising special platters of starters that you can order and share with your table!
PLUS, it's in a nice, warm, cosy Irish Pub with Guinness on tap etc etc!
Entry: 2 euros
For more information and to reserve your space contact Hannah at hannah@talkradioeurope.com.