Quad Adventure Safari tours Costa del Sol
by mark terry
(mijas costa)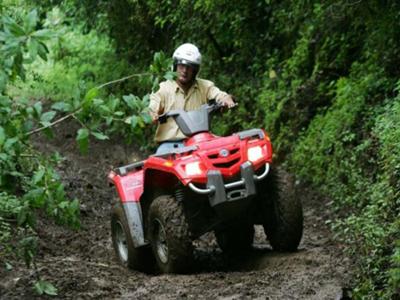 Quad Adventure Safari tours Costa del Sol
Why not treat yourself and your family to a truly amazing way of exploring the scenic landscape with the Costa del Sol quad adventure! Board a two-seater quad with your partner or children and cruise on the endless trails and beyond.


We offer a "top of the line" four wheel adventure tour that is sure to be a key ingredient in your holiday.
We include a safety and introductory lesson so that if you've never ridden a quad before - it doesn't matter. We ensure that you have as much fun as possible!
All quads are fully automatic , 250cc and road legal for 2 persons.
We offer a safe family oriented curcuit park for Quad Biking here on the Costa del Sol.
Situated just outside of Fuengirola,in Mijas Costa between Malaga and Marbella. This is the only 100% off road course on the Costa del Sol with over 100 acres of land with lots of different areas to explore.
No license required, and we accept drivers from 12 years (subject to height restrictions)
Using 250cc 2 seater Quad Bikes, you just get on and ride – it's as simple as that!! The forward gear is variable speed, so no changing gears and the speed is controlled by a twist throttle. The other control is the BRAKE!!!
Gloves, old trainers or waterproof footwear are highly recommended!!!
A full briefing follows covering all aspects of safety and how the Quad bike works. This is followed by practical instruction, learning how to turn, use the throttle and brakes (very important!!!). When the guide is satisfied all the riders are in full control of the quads then the trek will begin.
This is a complete guided Quad Biking tour whereby all participants follow the various trails behind the guide. The Trek follows a short dirt track from our base to the park.
Our Quad Bike course has everything you need to get the very best from your exhilarating Quad experience. With sand hill areas and dirt tracks humps and bumps, plus plenty of water hazards and mud thrown in for good measure (subject to whether we have had any rain!!).
You are guaranteed a great ride on our all terrain quads and will be amazed at the experience and what you achieve and you will leave with a big smile on your face!
Our trips are two, three and six hours long and we provide all safety material
Please note: If you are looking for racing/enduro-style tours. Then this is NOT for you!
The tours that we operate are not about speed, it's about taking in the beauty of the surrounding areas where you will discover the real Spain.
For more information contact: info@quadsafaricostadelsol.com