Patchwork and Quilting Show
by Lindsay
(Marbella)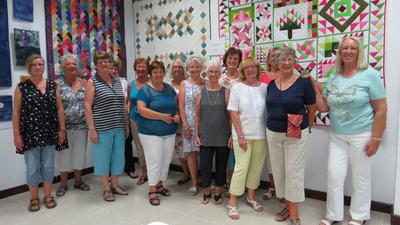 Quilters del Sol members
The local sewing group, Quilters del Sol opened their exhibition this week with a good attendance by the public. The club has produced a variety of work which has been hung in the Centro Cultural in La Cala de Mijas. There are full-sized bed quilts, wall hangings, cushions, bags and many other items.


A display table has "postcards" which are all handmade fabric cards sent by members to each other. Each month a theme is suggested e.g. for March it was Easter and each member involved creates a postcard with this theme to send out.
There are wall hangings with the emblem of a Mackintosh rose. These were created at a workshop run by a professional quilter, Gail Lawther (www.gaillawther.co.uk). The design is based on the work of Charles Rennie Mackintosh who developed many well-known patterns including the Mackintosh rose. Each of the wall hangings are the same pattern but the different colours used give the finished article an elegance of its own.
The group undertook individual projects to produce a mystery quilt. Every month instructions were sent out for the next part of the patchwork to be made. The finished article was not known by anyone except the co-ordinator. Each month the next section was made until the final part was distributed which showed the completed design. It was a fun project to do and an example is displayed at the exhibition.
Smaller quilts have been made which are called lap quilts. These are just to put around your legs on a cold night whilst watching TV or sitting outside when the wind is cool. There are also sampler quilts. These consist of blocks (large squares) which are of a particular pattern. Each block uses a different technique to create it so especially beginners can learn the varied methods to create blocks for patchwork.
Hanging from the ceiling are two banners made in different ways. One is like bunting. Triangles have been made with the letters of Quilters del Sol using a method call piecing and strung together to spell out the name of the group. The other has the letters of the name made from small squares sewn together. These have then been sewn onto the background. Both the banners are very good.
The group show at their exhibition a great variety of work and techniques and it is well-worth a visit. Entrance is free and is open Monday to Friday from 10:00 to 14:00 and then 17:00 to 22:00 and runs until 7th July. It is at the Centro Cultural, Boulevard de La Cala, La Cala de Mijas.
Anyone interested in joining the group, or if you just want to come along and see what they docall the membership secretary on 603 235 003.