OPEN HOUSE: New Montessori in Estepona - 12 December 2015
by Aida Domínguez
(Estepona)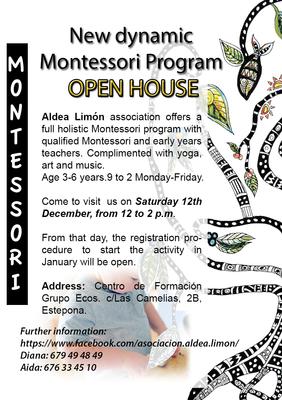 OPEN HOUSE: New Montessori in Estepona
New Dynamic Montessori Program Open House.


Aldea Limón Association offers a full holistic Montessori program with qualified Montessori and early years teachers. Complimented with yoga, art and music.
Age 3-6 years old.
9 to 14 hs.
Monday to Friday.
Come to visit us next Saturday, 12th December from 12 to 14 hs.
From that day the registration procedure to start the activity in January will be open.
Address: Centro de Formación Grupo Ecos. c/Las Camelias, 2B. Estepona.
Further information: https://www.facebook.com/asociacion.aldea.limon/
aldealimon@gmail.com
679 49 48 49