Musical tribute to The Eagles in Mijas - August 7, 2015
by Martyn Wood
(Spain)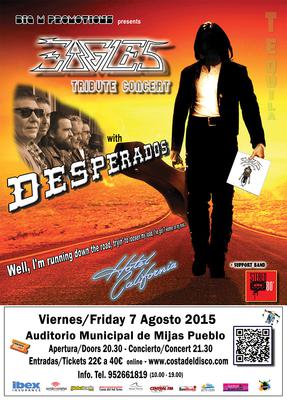 Musical tribute to The Eagles in Mijas - August 7, 2015
"DESPERADOS" - A night of the very Best songs of "The Eagles"


"DESPERADOS" were formed from two of the Costa del Sol's most respected bands; Shackattack and Monkey Tennis. This 6 piece group play the very best songs of the legendary "Eagles" in a 2 hour concert supplemented by classic video clips on a giant screen. A concert not to be missed for "Eagles " fans, a very special night under the stars in the atmospheric open air Mijas auditorium.
Opening the concert are the popular "Stereo 80" playing covers of 80s classics from Bon Jovi, Eurythmics, Queen, A-Ha, AC/DC, Guns n' Roses, Kiss, Queen, Bruce Springsteen, Dire Straits and many more.
This will be GREAT evening of "Eagles" songs plus other 80s classics in the spectacular Open-Air Mijas auditorium.
All concerts in the Hot Summer Nights have numbered seating in 8 areas, all of which have good views to the stage as the Mijas auditorium is an intimate venue, and acoustically great. The seating plan can be viewed on-line for each concert www.ticketsource.eu/bigmpromotions
The ticket office at the Mijas auditorium will be open on the day of each concert from 19.00h for last minute ticket purchases with a guaranteed 100 tickets on sale. Tickets purchases and drinks/food are cash only, there are "ATM Cashpoints" at various places in Mijas pueblo.
Doors open at 20.30h and all concerts will start at 21.30h.
There will be 2 bars (one bar exclusively for beer), an American style Hog Roast and BBQ, and Mojito cocktails.
As Mijas has a NO PARKING policy for non-residents of the pueblo, visitors cars must park in the multi-story car park by the town hall. There is a charge of 1€ to park all day. If you park in the village centre your car will get a fine and may be towed away. The walk through Mijas pueblo is lovely on a summers evening, and we highly recommend that you arrive in plenty of time to park, walk or take a taxi up to the auditorium.
Online ticket sales agents (full choice of seats):
Woody's Los Boliches
Robert Barnhardt Real Estate, Los Boliches
Sunshine Golf Store, La Cala de Mijas
Port Ticket Office, Fuengirola Port
Ticket sales agents (limited choice of seats);
IBEX Insurance, Fuengirola
Yorkshire Linen Warehouse "Beds and More", Mijas Costa
Mijas Tourist Office, Mijas Pueblo
Martin's Hair and Beauty Lounge, Benalmadena
Concert information 952661819