Monte Aventura Ecotour
by Monte Aventura Ecotour
(Marbella , ESPAÑA)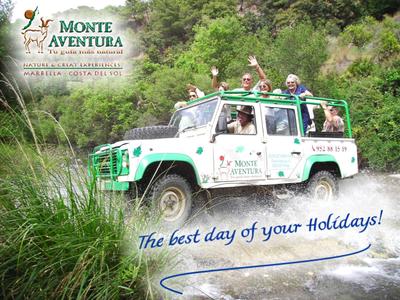 MONTE AVENTURA, a pioneer in ecotourism, offers you original guided tours to discover "Serrania de Ronda" and 'Sierra de las Nieves', declared Natural Park and Biosphere Reserve, the nearest one and most unknown in the Costa del Sol.


DISCOVER THE REAL SPAIN. EXPLORE THE NATURAL ANDALUSIA.
A GREAT EXPERIENCE, FOR ALL THE SENSES!
An eco-adventure for the whole family with our expert guides in comfortable 4x4 jeeps offering panoramic views of the Natural Park of "Sierra de las Nieves", declared Biosphere Reserve.
- Spanish wildlife, sunshine and colours. Superb!
- Enchanting white villages and warm local people, the salt of the earth.
- Welcome to Paradise: Plunge into relaxing, crystal clear waterfalls in the middle of an ecological heaven. Wish you were here . . .
- Taste the authentic Andalucían gastronomy. Healthy, natural and delicious… the true Mediterranean diet!
Breathe in the wide open spaces, bathe in the tranquility, You will feel your soul blossom!.
-
Will you join us to the Adventure?
the best day of your Holidays, Naturally !
pick up and return at your hotel or residence.
Information and booking in your Hotel or travel agency.
THANK YOU. With your support, MONTE AVENTURA can continue protect the environment.
For more information contact us at info@monteaventura.com