A night out for the whole family at the hipodromo de Mijas
by Martyn Wood
(Fuengirola, Malaga)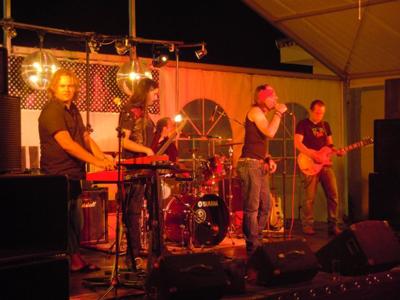 Stereo 80
Lovers of horse racing will be pleased to know that the summer 2011 season at the hipódromo Costa del Sol (Mijas race course) has double the amount of summer races than the 2010 season, 9 confirmed and 3 pending confirmation from the jockey club.


The next race night is on Saturday 16th July and the racecourse turnstiles open at 8.30pm for those eager not only to study the 'form', but also to enjoy a meal 'al fresco' at one of the many restaurants. And there is a great choice with traditional Spanish (Los Adrileños, El Caballero and the Jockey club), Italian (Papa Luigi), an Argentinean Grill, Irish (Patsy Fagens) and the "Sun City" American 'Diner' (Le Chic terrace).
The races start at 10.30pm and are run every 35 minutes or so until 1am. Details of the races (horses, jockeys, form, distance etc) are on the race card you get when entering the course, and on the same card are details, in Spanish and English, of how to bet.
For those visiting the race course for the first time there is a free tour every race night starting at 10pm at the paddock.
As the "Night at the races" is a family event, children have their own entertainment with bouncy castles, gladiator sports, pony rides, trampolines and other entertainment that varies from week to week.
On
Saturday 16th July
there is also a "RUSH" energy drink party in Le Chic. Organised by the same people who ran the highly acclaimed "American Caseta" in the recent Fuengirola International Fair, the night will be great fun with the "RUSH" girls giving out free samples and live on stage the incredible "Stereo 80" rock band.
Friday 29th July
is "Ladies Night" based on "Ladies Day" at Royal Ascot. Last year saw many women with wonderful headgear and a fashion show, this year there will be even more fashion and accessories with a fashion show in "Le Chic".
Saturday 30th July
is "R&R and Rockabilly concert" in Le Chic with international groups "The Beerbellys" and "Revival" also a R&R DJ playing hits on vinyl from the 50s and 60s.
The hipódromo Costa del Sol is found between La Cala de Mijas and Fuengirola and can be accessed from the Sohail castle junction or from the centre of La Cala following the signs. Entrance is only 5 euros but is FREE for those under 18 and over 65.
FREE parking is available for 1000 cars.
See preview video - https://www.youtube.com/watch?v=VHSyQ1bsASQ
Racecourse/racing Information 952592700 - Entertainment and activities 667759355
Photos courtesy of Sarah Goodland*
---
Read more about the
Mijas Racecourse - Hipodromo
---
Mijas Racecourse summer schedule
by Marbella Family
(Marbella)
Summer season kicks off in July at the Mijas Racecourse located just 20 minutes from Marbella. This summer they are holding special "Racecourse Evenings" that include five horse races starting at 10:30pm and last until approximately 1:00am. In between each race is a special show ranging from flamenco to music to children´s entertainment. The horse presentation at the paddock is a show to see in itself.

Not only can you watch horse racing, but there is a whole series of things to do with the family at the race track - restaurants, outdoor terraces, concert halls and more.

Gates open at 8:30pm
Horse races start at 10:30pm

JULY: Saturdays 3,10,17,24 and Friday 30
AUGUST: Friday 6

Entrance fee: 5 € (seasonal ticket, 20€)
Free entrance for children and youngsters less than 18 years old and pensioners 75+.

FREE PARKING

---
Take a look at what the
Mijas racecourse offers in the summer for the whole family
.
---