Marbella Hiking Favourite
by Robert
(Marbella)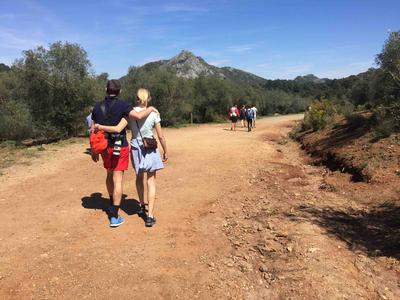 Casual Marbella Hike with the Family
Among my favourite things to do with the boys, or when friends and family come to town, is go for a hike. One of the many things Marbella is blessed with are loads of great places to go on walks or hikes for all levels.

Today I chose one of the easiest and most accessible - the Mirador walk at the Refugio de Juanar. This time I had another family from Munich and Linz visiting us with two other boys, so we had kids ranging from age 6 to 13 years.

What I like about this particular walk is:

1. It's easy to get to (only 15 minutes from central Marbella)
2. Parking is always available
3. It's an ideal way to spend 1.5 hours outside in the fresh air

To get there, you simply take the road to Ojen from Marbella, past the La Cañada shopping mall. Just about 10 minutes up the hill, you'll make a left when you see the sign for "Refugio de Juanar". The winding road will lead you from the dry foothills through to pine trees reminiscent of an Alpine environment.

You'll pass through a small gate and begin the walk. The trail is well marked - look for the signs indicating "Mirador" and you'll be on the right path.

After passing through some tall pines you'll reach a clearing where there is an orchard filled with olive trees. If you're there during the harvest you'll even get to see how they help produce one of Spain's #1 crops.

The path to the Mirador is wide and you can even bring a stroller it it's equipped with large enough wheels to navigate a dirt path.

When you reach the edge, there is a metal statue of the goat that the kids always enjoy taking a photo beside to mark yet another successful "ascent".

For more on hiking in and around Marbella, check out this section on: Marbella Mountain Activities.

RECOMMENDATIONS:
• Bring water - at least 0.5l per person
• Expect to spend 1.5 hours on the walk
• Don't expect to keep your car clean - it's a dirt road at the top

For more perspectives on a Dad's life here, check out the Marbella Dad Blog.