MARBELLA FOOD SUPPLIERS: FRUTERIA SALVI
by Morris Bishop
(San Pedro de Alcantara)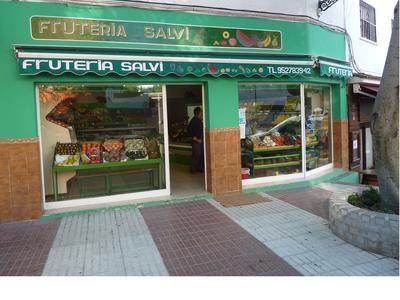 The approach to Fruteria Salvi
No "plastic pre packed produce" here, but instead having your selections hand picked from the seasonal fruit and vegetables that mostly comes straight from their own farms in San Pedro north and Cancelada. Salvi and Diago, the husband and wife team, ably assisted by Mia, have been running this green grocery for more than 35 years and have built up an enviable reputation for excellent produce at fair prices, indeed for the 15 or so years we have using them I can't recall an occasion that we have had cause for complaint.


Freshness is there Unique Selling Point not frozen or CAT storage (Controlled Atmosphere Technology) like so much of fruit and vegetables in supermarkets, and they actually encourage you to sample the fruit! They keep up with the times as well – witness the fact that some years ago we introduced them to Pak Choi, (Chinese Cabbage) and since then it is a stock item with them.
Some 18 years ago they suffered a major setback in that part of the San Pedro farm was compulsory purchased to make way for the AP7 motorway and this included their farm house and all of their green houses and poly tunnels. But undaunted they acquired a second farm and came back stronger than ever.
Don't try looking for their web site - there isn't one, but what you do have is a personal service from people with a genuine passion for what they produce and sell. So let's help to keep the 'High street' alive by using local produce.
The VS: Fruteria Salvi can be found in C/Jerez, no. 6 (down the side of Maskom Supermarket) and they are open from 9:H to 14:00h and from 17:00h to 20:30h Monday to Friday, closed Saturday afternoon and Sunday. Telephone 952783942 Mai speaks good English
Please mention to Savli that you they were recommended in the "MarbellaFamilyFun.com" Newsletter. To see even more food suppliers and the best restaurants in Marbella, check out The Bishlin Guide.
DATE: November 2016