Malaga to San Sebastían
by MarbellaFamilyFun.com
(Marbella)
Five Days in San Sebastían
This is a PERFECT family getaway for a half-term holiday. San Sebastían (also known by its Basque name, Donostia) is situated on the northeast corner of Spain on the Bay of Biscay, minutes from the border of France. This is a gastronomic paradise recognized worldwide as a hotspot for culinary delights.
However, San Sebastían offers families a wide variety of fun, intriguing and educational experiences FAR beyond those that delight foodies. We have two energetic boys so our priorities for travel are that they include a mix of adventure, education, outdoor activity and convenience.
GETTING THERE:
From Malaga you can get direct flights into San Sebastian or Bilbao, which is just over 1 hour away by car. We chose to take the train from Malaga to Madrid and then picked up a rental car for the five hour drive to San Sebastian. The drive is pleasant and the roads are well maintained so it was an opportunity for us to see how different the lush, green northern half of Spain is from the dry southern part we are more accustomed to. If you choose to drive from Marbella to San Sebastian, plan on a 10 hour drive.
Our bucket list of things to do in San Sebastían:

• Hop On Hop Off City Centre Tour
• Eat pinxtos (peen-chose) like a local
• Hike up Mount Urgull
• Visit the San Telmo Museum
• Check out the Aquarium
• Build a sand castle on La Concha beach
• Enjoy an espresso in a sidewalk café
Below you'll see some snapshots and highlights from our latest trip to this magical city on Spain's northern coast.
Take the Hop On Hop Off Tour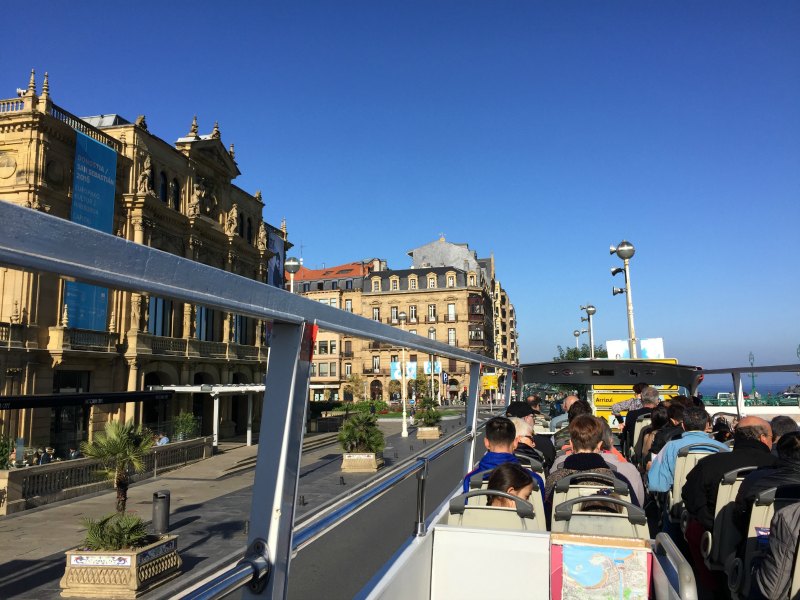 First thing we always do to get a lay of the land is to take a quick tour (preferably about one hour). There are convenient double-decker buses which cruise through 15 stops enabling you to hop on or hop off along the way. The audio guides are available in multiple languages and offer some interesting milestones of this city's history, which has been shaped by multiple wars, fires and migrations.
Eat Pinxtos like a Local
Stroll through the old town nearly any time of day and you'll be astounded by the number of people popping in and out of small bars, pubs and restaurants sampling culinary treats of all shapes and sizes. The region is well known for its sea food and meat so and there are also many vegetarian samplers available. Most of the people simply eat and drink standing anywhere there is a small free space. Although not necessarily child friendly for very young children, a visit to San Sebastían wouldn't be complete without a quick bite of pinxtos on the street.
Hike up Mount Urgull
Overlooking the old town of San Sebastían is a majestic statue atop Mount Urgull. The views are stunning and there are numerous, well marked paths which will get you to the top in about 15 minutes from the marina. The kids LOVED the small pathways the old fortress and cannons at the top of the hill.
Visit the San Telmo Museum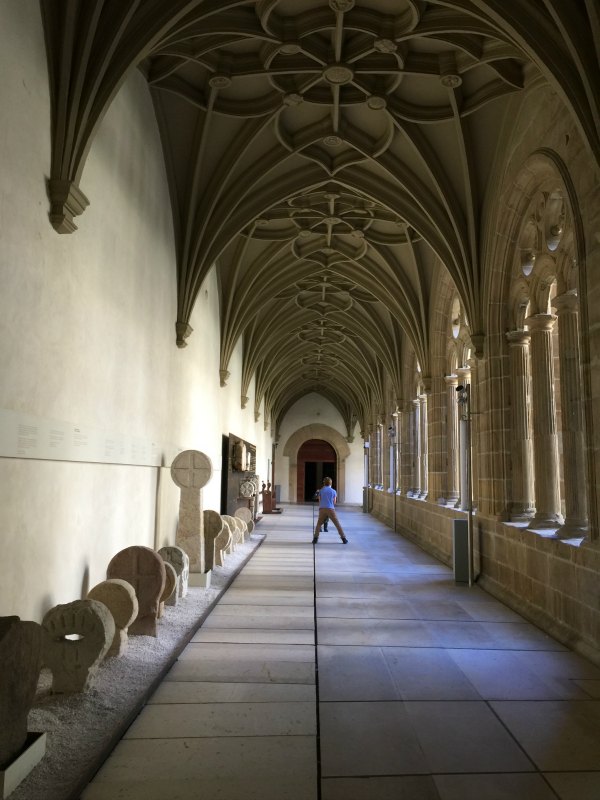 Museums are hit or miss with young kids but this one proved to be a winner. The museum has been restored inside an old monastery and the architecture and featured works are STUNNING! From old masterpieces by Greco to an authentic Donostia classic racing car, our family easily enjoyed a 2 hour visit to this spectacular find.
Check out the Aquarium
Situated just past the marina in the old town centre is one of the best aquariums in Europe. There are multiple levels, each one featuring an exciting display of eye-popping exhibits. The fun started with a life sized skeleton of a giant whale indigenous to the local waters and ended centimeters away from the jaws of a live shark slowly swimming in an enormous tank above us. There is even an area where kids can put their hands in a tidepool and try to get there hands on fish!
Build a Sand Castle on La Concha Beach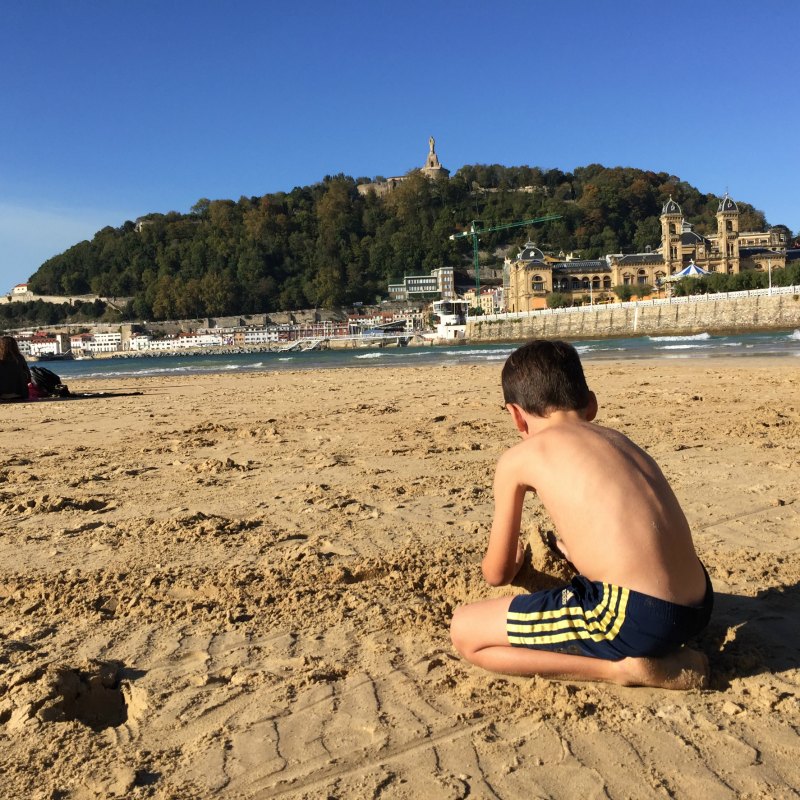 We found it very funny that San Sebastían's iconic beach shares the same name as Marbella's famous mountain. The beachfront is wide and the sand is golden and soft. Anytime of year you'll find people strolling along the shores, playing in the water and – yes – surfing! Our trip was in November and it was still warm enough for enjoy building sand castles on the shoreline.
Enjoy an Espresso on a Sidewalk Café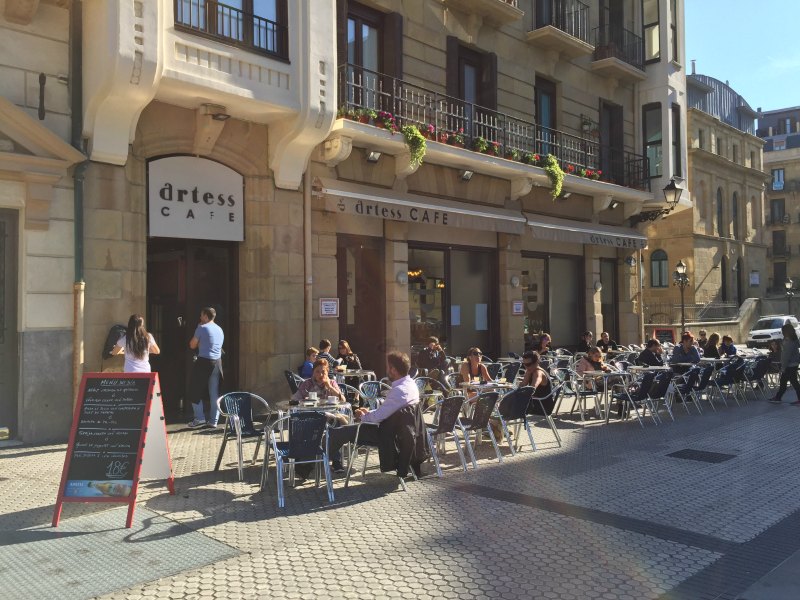 Although everyone raves about the gastronomic experiences the food is not necessarily suited to everyone's palette. If you are not a huge fan of Spanish cuisine you have nothing to worry about – there are numerous, high quality restaurants where you can find everything from Italian to Sushi. We particularly enjoyed visiting Artess Café, near the San Telmo Museum. It is situated beside a large playground, offers a great assortment of food and has a charming area where you can enjoy a delicious coffee while basking in the Spanish sun.
WHERE TO STAY:
We rented beautiful flat in the old town centre of town overlooking the marina on AirBNB. Choosing a place in the city centre means you are walking distance everything. This city is compact and you can walk nearly everywhere in a few minutes' time.
Key Travel Planning Tips
• How to get there: Plane, train or by car
• Where to stay: we chose AirBNB for the numerous flats on offer
• Best time of year to visit: Anytime – it's Spain!