Links Bar & Bistro Aloha Pueblo
by Morris Bishop
(San Pedro de Alcantara)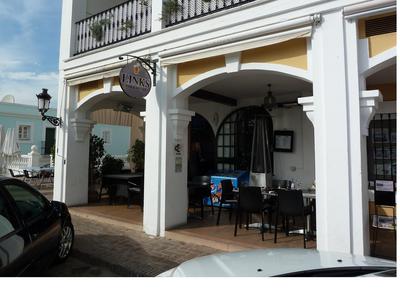 You may have a problem finding them, but when you do, it will all be worthwhile! Links is a small Bar-Bistro set in the attractive Aloha Pueblo. For over 20 years mine hosts have been Yvonne and Jason, and their formula is deceptively simple:


Good food at reasonable prices, served by friendly, knowledgeable staff in simple ambience, that's what brings the punters back, time and again
Tani, the talented Philippino chef produces dishes that brings a smile to the faces of all the diners, whilst Siaphon Keeps the customers happy front of house. Of the 40 items on the menu, non of them are over 9.50€, and most of them are 'mouth watering' old favourites.
All of our party of 6 thoroughly enjoyed our meal – for mains Try the Steak pie (pity it was a flaky pastry lid), the Chicken curry (Tani will adjust the heat to order), or one of their 5 salads they have on offer. The 6 desserts are no less tempting, Portions are generous and well presented.
One niggle was the paper serviettes, but I must admit that a fresh serviette was brought for each course.
Bottom line – we will return – soon
The stats.
Open 7 days a week for lunch and dinner, Links can be found in the heart of the Aloha Pueblo, which lies between Real Club de Golf Las Brisas and the Aloha golf club.
They have a very large terrace area, potentially able to seat 50 or so, but limited indoor space for about a dozen, plus bar space.
Open from 1pm. for lunch and dinner every day.
Average price of a three course meal with wine and tip is 20€.
No credit cards taken. Meal of the day 10€, and Sunday Lunch 15€
email linksbar@hotmail.com
Their menu is on linksbaralohapueblo.es
Phone 650160189
Bishlin marks out of 5
ambience 2
food 3
service 3
menu 3
value 4 o/a 3
If you need an A4 version of my map to help you find Links, email mobidata@gmail.com