Le Kune | Marbella
by Vladimir
(Marbella)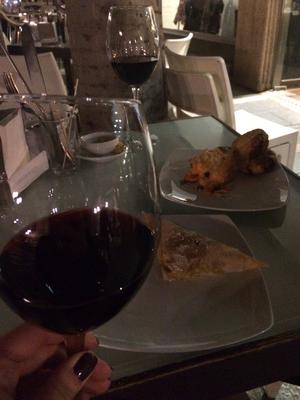 Le Kune
Hi, everyone, it's me Vladimir from Taste of Marbella and today I will share with you, my personal experience in the lovely tapas bar "Le Kune".


So let's start with location, it's situated on the street Avenida La Fontanilla, 1, Marbella, Spain, which right next to the main street of Marbella Ricardo Soriano so it's not that difficult to find. It happened that I live pretty close to it so I can assure your that the place can be really full as for the lunch time as for the dinner time especially. We (me and my fiancee) got lucky and got a table outside without a chance to sit indoor because it was already a queue of people waiting to be sited.
The ambiance was all right, I mean if you do like crowdy places with a lot of people chatting then it's your spot. So let's go with the food and simply saying it's delicious! No exaggerations.
As I said before it's a tapas bar so we're talking about one quite big ¨tapa¨ with a price 2.40 euro a piece. Also, there are some for 1.80 euro (like the homemade croquetas).
I would also pay my attention to the way you order your meal, actually, you order just drinks and every few minutes waitress passing by with filled with the food trays, offering you to take something. I would say that's interesting, and eventually, you're gonna be charged for a number of toothpicks that left after your tapas. We had 8 of them and all were just super tasty.
The variability of choices is surprising, you can have, for example, some mini burgers and something similar to a slice of pizza, or some spicy sort of Indian or filled with shrimps tapas. Depends on your taste preferences, but I am pretty sure that you can find something that will definitely satisfy you.
Service is ok, waitress speak some English so you have a chance to understand what is it that they offering you to taste. Some of them maybe looked a bit tired and kinda not too cordial but that's understandable, I used to dedicate myself to customer service as well, so I know how tough could it be to remain same friendly all the time.
This place is really popular in the area and has its own regular customers.
Le Kune has truly deserved its status of magnificent tapas bar with reasonable prices and amazingly delicious food, so I would highly recommend it to you, my friends, give it a try!
So my overall marks are:
Food - 5
Prices - 5
Service - 4
Ambiance - 4
Hope I've been helpful, you will hear more from me following weeks.
Best regards, signing off
Vladimir_Taste of Marbella