La Quinta Ecological Market Day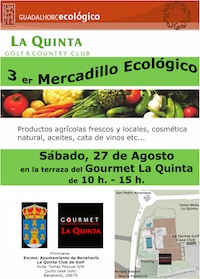 On Saturday March 27, 2011 La Quinta Golf and Country Club is organizing an Ecological Market Day from 10:00am until 3:00pm. This one off event is taking place on the terrace of the Gourmet La Quinta cafe and store.


This is your opportunity to try out a variety of locally grown ecological fruits and vegetables, eco-friendly cosmetics and olive oils. You will also have a chance to taste some local wines.
La Quinta Ecological Market Day is held in collaboration with the Escuela de Hosteleria de Benahavis (Benahavis Hotel & Catering School) whose chefs are planning to demonstrate some of their culinary skills for you.
Also, planned for the day are free courses for children on organic agriculture and domestic animal care.
If you´re a foodie and would like more information, call+34 675 778 297 or e-mail: Gourmet@grupolaquinta.com. For directions on how to get to La Quinta see their website at www.laquintagolf.com/location.html