La Meridiana del Alabardero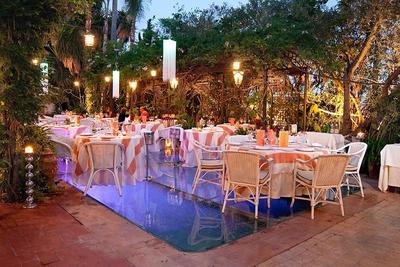 Al Fresco dining
La Meridiana del Alabardero in Marbella begins the 2013 season with a new menu. Open Tuesday to Sunday from 6pm. You can come and enjoy a cocktail, a tea in the afternoon or a romantic meal for two or with friends, all in a relaxed environment, with good music and the most original drinks.


From the moment you arrive at La Meridiana you will be treated as if at home. With our ample parking area, you won't need to worry about a thing. The restaurant offers an array of areas to enjoy any occasion, ranging from a relaxed lounge area, with its own garden, is perfect for enjoying a glass of champagne before dinner or an original cocktail. The indoor terrace is sophisticated and spacious, filled with natural light and with views to the garden as well as Marbella's´ fabulous 'LaConcha' mountain.
The new menu is elaborated with fresh ingredients, respecting the original flavours, and giving place to a modern cuisine, using amazing textures, ingredients and aromas that enhance all of your senses. To accompany your meal we possess an extensive winery.
---
Address: Camino de la Cruz, s/n, 29600 Marbella, Málaga
Phone:952 77 61 90
Hours:
Monday Closed
Tuesday 6:00 pm – 12:00 am
Wednesday 6:00 pm – 12:00 am
Thursday 6:00 pm – 12:00 am
Friday 6:00 pm – 12:00 am
Saturday 6:00 pm – 12:00 am
Sunday 6:00 pm – 12:00 am