Joyous
by Morris Bishop
(San Pedro de Alcantara)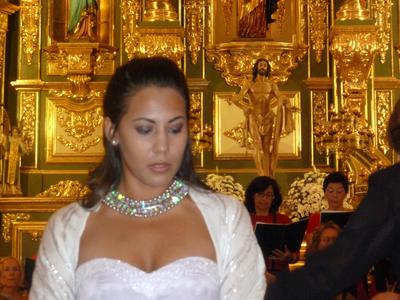 Marlena Devoe Soprano
Joyous!


….. is the one word that epitomizes the feelings evoked by the magnificent evening of music given by the choir and orchestra of Collegium Musicum Costa del Sol with the Camerata Singers under the baton of their Director of Music, Annemarie Philipps. The performance that they gave must be, in this writer`s humble opinion, one of the finest in their 39 years of music making, and every chorister and every instrumentalist should be very proud of their achievement.
Now put into the mix the exceptional voice of the award-winning soprano soloist, Marlena Devoe, and another word, 'Magical', springs to mind. Such a pure, seemingly effortless
delivery from this beautiful Samoan from New Zealand, defies the fact of her being so young.
The performance took place at the Iglesia de Encarnation, in Marbella on 27th May to a packed audience whose appreciation showed no bounds. The programme started with Schubert`s Magnificat, composed when he was just 18, followed by a selection from Mozart Vesperae Solennes de Confessore then 2 movements from the Brahms Requiem.
The Orchestra was then given its turn to be centre stage with two of the Slavonic Dances by Dvorak, and finally the wonderful Mendelssohn's Lauda Sion Salvatorum, Op 73, where Choir, Orchestra, Soloist, and Conductor combined in a 'Magnificent' interpretation of this work.
So there you have it: three words to describe the evening:-
Joyous Magical Magnificent
And from this writer Thank you, Thank you, Thank you.
Morris Bishop