JM Sports Massage | Marbella
by James Miller
(Spain)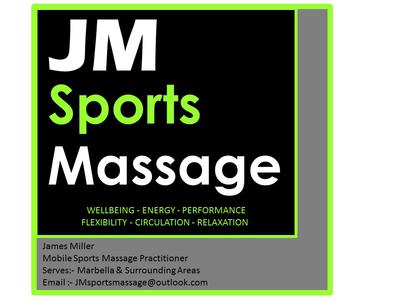 JM Sports Massage | Marbella
I offer Sports Massage treatments, to aid the Wellbeing, Energy, Performance, Flexibility, Circulation of my clients.


As well as coaching teams, I also provide 1-2-1 football coaching from ages 10-18, to improve skills, fitness, movement and dependant on what the client wants.
I am also available to deliver fun filled coaching at football themed parties.
How am I different?
Firstly, I'm very passionate about helping people to achieve their goals.
I'm an ex-footballer who qualified in Sports Massage at Loughborough College.
I have huge experience within football and for the last 3 years have ran the 16 -19 football academy at Loughborough College with a lot of success.
Alongside this, I have also provided football and multi-sports sessions in primary schools in and around Leicestershire during lunch times and after school.
During school holidays, I have ran my own and helped with the running and coaching of a kids multi sport camps, this is something that I plan to do here, during the summer months.
What clients love about me
I am fully qualified, DBS checked and insured.
I am friendly, approachable, knowledgeable, achieve agreed results. With my experience, I know when a client wants to chat and when they just want a treatment!
I have lots of different coaching styles.
Hours of operation:
Sports Massage :- Available Mon-Sat. Sun negotiable. Flexible hours. 30mins or 1hr sessions available.
Football Coaching:- Available Mon-Sat. Sun negotiable. Flexible hours
Currently mobile and in process of hopefully securing a base.
Telephone:
+44 7532792373
Facebook: James MIller