Iyengar yoga classes Marbella
by Carola Polo
(Nueva Andalucía, Marbella)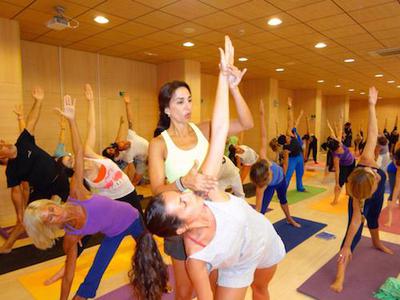 Join Carola Polo in the practice of Iyengar yoga in Marbella.


TIME:Beginners
-
Mondays 7:45am - 9:15am, 9:30am - 11:00am
Tuesdays 14:15 - 15:45, 19:00 - 20:30
Thursdays 9:30am - 11:00am, 14:15 - 15:45, 19:00 - 20:30
Advanced
-
Mondays 14:15 - 15:45
Thursdays 14:15 - 15:45
Private classes
Wednesdays 9:30am - 11:00am
Fridays 9:30am - 11:00am
Address:
Camino del Ángel, Urb San Javier 27, Nueva Andalucía, Aloha (look out for the Danzzas sign out front)
Tel:
+35 670 72 92 22
Email:
carolapolo1@gmail.com
Facebook:
Iyengar Yoga Marbella
---
Yogacharya B.K.S. Iyengar with his intellectual and spiritual practices has masterminded the techniques which can be used by all practitioners of yoga. "Research based experience" and "experience based research" has helped him in evolving this technique which is now known as"Iyengar Yoga". He has therefore made it possible for ordinary human beings to experience the wisdom of the yoga sutras.
Iyengar yoga is meant for all and is a way of life. The use of props, designed by Guruji , such as wooden gadgets, belts, ropes helps the practitioner to achieve perfection in any asana. Regular practice of 'Iyengar Yoga' definitely integrates the body, mind and emotions.
www.bksiyengar.com
DATE: 2014