International Vocal and Beatboxing Workshop Weekend - 27-28 November 2015
by Tracy NEWTON BLOWS
(Sotogrande International School)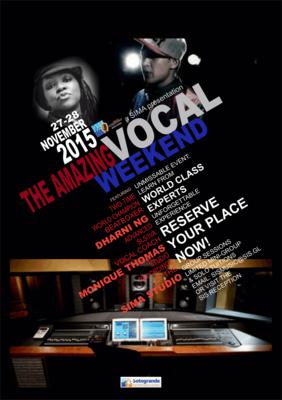 International Vocal and Beatboxing Workshop Weekend
Are you a vocalist or a budding beatboxer - or just a natural singer - and would love to sign up for a weekend of vocal coaching with WORLD-CLASS vocal experts? If so, and if you're 10 years old or older, have we got a treat for you!

Reserve your weekend of November 27th-28th for two days of intensive vocal training under such luminaries as Dharni Ng - a two-time World Beatboxing Champion - or Monique Thomas, an advanced vocal coach in the SLS/IVA method (used by all the TV talent shows as well as virtually ALL the top international singers you know and love). The event will also feature a state-of-the-art recording studio and an established producer/songwriter to capture some of everyone's performances.

The International Vocal Weekend will take place at the Sotogrande International School's San Roque Campus (just 5 minutes away from the school). Book your tickets by calling the reception on (+34) 956-795-902 or emailing beatbox@sis.gl - or collect them in person at the reception on the SIS campus.

The event starts, unofficially, on November 27th at the SIS school theatre at 16:00 (don't miss the live performances and get your last-minute tickets), and the official start is on Saturday 28th at the SRC campus.

This is a once-in-a-lifetime experience, so make sure to be there! Act now and secure an early-bird discount of up to 30%.

Suitable for children over 10 as well as adults.

Check out the flyer (enclosed) or visit our information site here: www.meermusic.com/sotomusic/vocal-weekend

See you there!