ICELAND Supermarket in Marbella
by Morris Bishop
(San Pedro de Alcantara)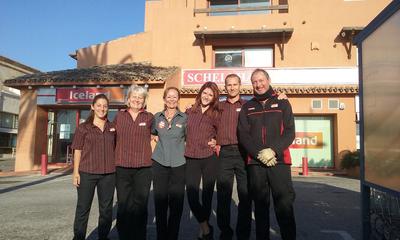 The Iceland team
Before 2011 a monthly expedition to Gibraltar became the norm for thousands of shoppers from the costa's who just could not go without their favorite UK fix.


Then, we justified the journey by getting a full tank of fuel at a greatly reduced cost , but inevitable having to waste, sometimes hours, on getting in to and out of the rock through Spanish border control. So when Iceland (which started out as Bejam in the UK) opened its doors in Nueva Andalucía selling British produce, it completely change the shopping habits of enumerable expats and tourists.
The well stocked 600 m2 store that includes a large freezer cabinet area, is backed up by the attached warehouse that receives weekly overland shipments from the company 'Overseas' in the UK., and although there are a few locally sourced products, over 98% of the stocks origin.is British. Hopefully they will solve the potential problems they will face as the now free access to the single market becomes inhibited by the results of the UK's negotiating a 'Brexit' from Europe.
The helpful team is headed up by manager Rob Harley ably assisted by Pat and Jenny, and, unlike many supermarkets, there always seems to be someone around to get advice from. Most of the items are referred to with dual language. They stock a range of popular Waitrose products. Look out for their monthly special offers.
This review coincides with the 6th. anniversary of the opening of this, the second of 4 store on the Costa del Sol, the other being at Mijas, Sotogrande, and Calahonda. In total they have 17 outlets on the Iberian peninsula.
Location
The VS
Iceland can be found at Centro Comercial Alzambra, local 1.2, Nueva Andalucia, 29660.
This is at the Alzambra roundabout that, coming from Estapona direction, after taking the third exit from the N340 into Puerto Banus, take the fifth exit from the round about under the N340 to the Alzambra round about, and from the Marbella direction, take the Puerto Banus slip road from the N340 (approx. 2 km. after the tunnel) and this terminates at the Alzambra round about
Tel: +34 952905040
Email puertobanus@overseas.es
visit their well organised website at www.overseas.es that has an abundance of information about the store and all of their 10,000 line items stocked.
They issue a Bonus card, but this is only to qualify for their monthly draw. Dedicated off road parking.