Happy Divers Marbella diving school
by Marbella Family
(Marbella)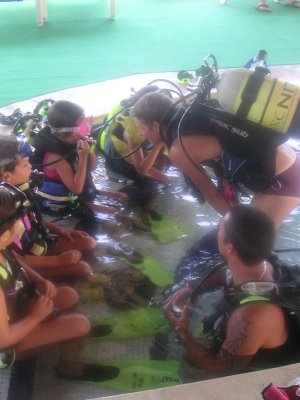 Happy Divers Marbella Diving School
Happy Divers Marbella diving school & IDC College is a diving center located in Marbella Port. We offer PADI 5* Career Development Centers & NATIONAL GEOGRAPHIC centers for those on the Costa del Sol in Spain.


For more information, check out the complete guide on
diving in Marbella
Happy Divers Marbella belongs to two diving centers:
The diving center
Happy Divers Marbella & IDC College
is located directly at the beach of Atalaya Park Hotel close to San Pedro - between Marbella and Estepona with great views of Gibraltar and the Moroccan coast. This center has been managed by Peter Deth since 1996. Both the hotel and the diving center are situated in a quiet residential area away from noisy tourist centers. The distance to Marbella and Estepona is approx. 13 km. To Málaga it is about 70 km.
Happy Divers ? Marbella Port
is located in the leisure harbor (Puerto deportivo) of Marbella which is located right in the city center of Marbella.
We cater to all levels - beginners, experienced divers, instructor training and beyond.
Happy Divers Marbella is open all year. From
March until mid November
the dive center is open daily from 9:00 a.m. to 19:00 h. During the winter month Happy Divers is open from Sunday through
Friday from 10:00 a.m. to 18:00 h.
The diving center has a friendly and inviting atmosphere and has intentionally been kept as a smaller place to guarantee individual services. Scuba diving equipment has to be carried only very short distances. To pool and boat it is about 30 meters.
Happy Divers Marbella & IDC College is the highest rated PADI dive center in Spain - the only PADI 5* Career Development Center (CDC), PADI Gold Palm 5* IDC Center, PADI IE location and the first ever NATIONAL GEOGRAPHIC dive center in Spain. Divers are taught from beginners to instructor level and beyond.
In 1997 Happy Divers Marbella became a Scubapro S.E.A. diving center and it is therefore one of the 210 diving centers worldwide recommended by Scubapro. Since 2006 we are also a Mares authorized dealer. Of course here you will find Scubapro and Mares diving gear for rent and sale and the diver can be sure that the equipment will be maintained regularly by trained staff.
We teach in English, German, Spanish and French.
For more information visit our website at www.happy-divers-marbella.com or call Peter Deth
+34-609 57 19 20 or +34-952-88 36 17. Fax: +34-952-80 81 66
Email: peter@happy-divers-marbella.com
Atalaya Park Hotel
Ctra. de Cádiz, km 168,5
29688 Estepona-Marbella /Málaga - España