Gazpacho Recipe
by Marbella Family
(Marbella)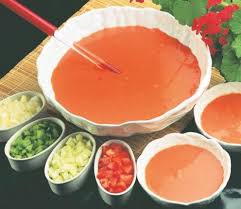 Summer is right around the corner and Marbella is starting to heat up. Why not cool off with a nice refreshing bowl of homemade Gazpacho? It is so easy and much tastier, healthier and affordable than the store bought variety. Give it a try and let us know what you think...

INGREDIENTS:
3 pounds tomatoes, cored and coarsely chopped
1 seedless cucumber, peeled and coarsely chopped
2 red bell peppers, seeded and coarsely chopped (or yellow or orange)
1 jalapeño, seeded and coarsely chopped (optional)
1 clove garlic, peeled and chopped (optional)
1/4 cup sherry vinegar
1/3 cup extra-virgin olive oil
Salt and freshly ground pepper

PREPARATION:
Combine all of the ingredients in a large bowl and refrigerate overnight. Save a bit of each of the vegetables for garnish. In a blender, puree the vegetables until smooth. Strain the soup into a deep bowl, season with salt and pepper, and serve.

Additional optional serving suggestions:
finely chopped cucumber, tomato, red onion, croutons and a healthy drizzle of extra virgin olive oil.



Click here to return to: FOOD & DRINK - RECIPES.