Funky Tapas Nueva Andalucia
by Morris Bishop
(San Pedro de Alcantara)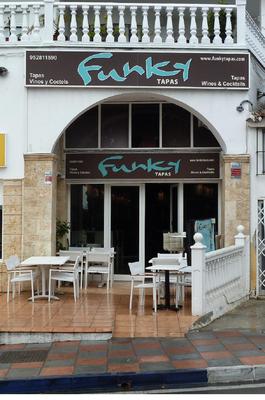 Funky Tapas
Garry Wait's new venture, FUNKY TAPAS opened last December with Teresa, his long time collaborator in front of house and a talented group of chefs to create a new twist on the traditional Spanish tapas. Some 60 items are listed, many of which are freshly made to order.


To list just a few of the unlikely dishes that are served in tapas size portions:
Home baked bread with a dip of Humus Dukkah Tapenade, Mini Cornish Pasty, Mini
Cottage pie, Scotched Quail egg with Piccalily puree, Potato & Morcilla Blini Torrtilla,
Mediteranean Fish Pie, A Bucket of Mussles, Tempura King Prawn with sweet Chilly
sauce, Tuna Tartare & Wasabi Crème Fraiche, Crispy Serrano Ham, Prawn & Chorizo
Pil Pil, Oxtail Burger with a Smoked Cheese and Red Pepper Relish.
There are lots more conventional dishes, indeed it would be hard not to find something to please. To help you make a choice, the knowledgeable staff will take you through the menu, but for my part, I would like to taste all the temptations that are on offer.
Modern, Bright décor with comfortable seating, makes for a pleasant dining experience
that I for one will be repeating soon. Funky Tapas can be found in Avd. Miguel de Cervantes in Nueva Andalucia bookings on 95281 1590 See the menu and other info. on www.funkytapas.com On road parking opposite. Open 7 days a week from 12 pm. till
Late.
Bishlin marks out of 5 ambience 4 food 4 service 4 menu 4 value 4
These are marks for this type of restaurant and should not be compared with the more
Formal or fine dinning establishments.
January 2014