Fun Music Workshops for Kids in San Pedro De Alcantara - July 2015
by Busy Bee Club
(Marbella, Spain)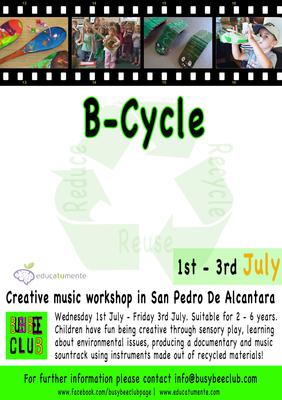 'B-Cycle' Creative Music Worshop
Busy Bee Club has teamed up with Educatumente and have 2 super creative and fun music workshops coming up in San Pedro De Alcantara in July:


B-Cycle: Ages 2 - 6 years. From Wednesday 1st - Friday 3rd July. 1030am - 130pm. Children learn about environmental issues, produce own soundtrack and documentary using made instruments out of recycled material.
Fun In The Sun: Ages 5 - 10 years. Monday 6th - Friday 10th July. 1030am - 130pm. Children have fun being creative through sensory play making instruments, recording environmental sounds, investigating rhythmic patterns, exploring melodies, song writing and recording a song based on their findings using a professional set up!
Get in touch via Facebook www.facebook.com/busybeeclubpage or email info@busybeeclub.com for further details
Having Fun Being Creative!