| | |
| --- | --- |
| Filipinas Internas | |
share this page with a friend

Filipinas Internas offers families in Marbella and the Costa del Sol professional domestic help including nannies, housekeepers, maids, gardeners and adult care nurses. All candidates undergo a thorough screening process to insure that you receive the absolute best match for your family needs. Having placed Filipino staff at family homes throughout Spain for the last 8 years, the agency is considered an authority on Filipino recruitment, placement and ultimately client satisfaction. 
If you have already experienced the frustration and stress of hiring domestic staff, you will recognise an immediate difference with professional Filipino help.

What differentiates this agency from other placement services is their focus on Filipino resources, which is unique for the Costa del Sol. Owner of Filipinas Internas, Rocio Mejias, is a mother herself and well understands the needs of active families in Marbella. Having placed successful candidates throughout Spain for nearly a decade, you can be assured that the candidates you will be proposed by Rocio are highly professional, discrete and extremely hard working. 
Candidates are available for either long-term or short-term care. To find out more information, please email: agencia@filipinasinternas.com, or call Tel: +34 629 242 589.
Why consider Filipino support for your domestic needs?
Filipinos are known worldwide for being both discrete and extremely hard working. It's no wonder why so many professional hospitality leaders and medical centres include Filipinos among their staff.
A majority of the Filipino candidates offered by the agency have worked in the care-giving industry for numerous years with the same employer, taking care of children or the elderly. The candidates you will be presented with also are experts in home care including: cleaning, ironing and cooking.
Another benefit of the candidates you will notice is their high academic achievement level. The vast majority of caregivers have achieved upper educational levels and are fully fluent in English. Additionally, they are provided with courses in first aid, babysitting and kitchen management.
| | |
| --- | --- |
| | Strong home-management skills: the candidates represented by the agency are not only pre-screened but also provided vital training for any skills deemed necessary. For example, the candidates would be provided with home-management training to prepare them in advance for working in your household. |
| | Discrete and hard working: are words that are constantly heard among the clients of Flilipinas Internas. The agency's pre-screening process involved an in-depth review of the candidates previous experience, skills and expectations to insure a high degree of satisfaction for both the client and the support staff. |
| | High education and fluency in English: are additional benefits which you will immediately notice among the candidates you are introduced to. The recruitment process considers education level and English language fluency to be critical success factors to client satisfaction. |
Who are satisfied clients of Filipinas Internas?
Clients who have been very satisfied with the services offered by this agency are people who want to continue with their careers, hobbies or enjoy their families and friends. They have found that a trusted, loyal and highly experienced staff has enabled them to be more productive and effective in their day-to-day lives.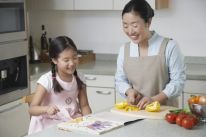 All staff managed by Filipinas Internas undergo a strict selection process designed to select the right candidates for each family's individual needs. The main goal of the agency is to deliver professional and experienced care givers. This also means that the agency will interview you regarding your own family, home and expectations. 
Key benefits you will receive, include:
One-to-one advice when choosing staff according to your unique needs
Report on any specific legal regulations that must be considered when hiring staff
Documentation of candidate profiles: CV, Referrals, Certificates, Interviews
Monitoring and continuous satisfaction of clients 
Related links to Filipinas Internas