Fashion workshop

(Calahonda)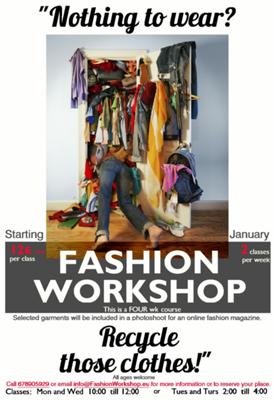 " Have fun, make new friends AND learn how to recycle your old clothes into unique items you'll want to wear again!"


Recycling is an important issue nowadays but did you know it could also be FUN? Be honest. How many clothes are there in your wardrobe that you either 'don't wear anymore', that 'don't fit you' or you have 'NEVER actually worn'?
Come along and learn how to recycle those clothes into items that you DO want to wear. Along the way you'll learn new sewing skills, make new friends and have a lot of fun with our 'experimental' sessions.
Classes are starting at the end of January so after Christmas, why not have a quick, 'spring clear out' of your wardrobe and sign up for one of the FASHION WORKSHOPS. Come along, twice a week for four weeks. Either Monday and Wednesday (10:00 till 12:00) or Tuesday and Thursday (14:00 till 16:00) If there are enough people interested I will also be running a Saturday Morning class from 10:30 till 12:30.
Ages from 14yrs - no upper limit. If you have a sewing machine, bring it along. If you don't have one, there are a limited number of domestic machines here that you can book for your session. Call me on 678905929 or email me on info@FashionWorkshop.eu to reserve your place. I wish you all a very "Merry Christmas" and I look forward to seeing you, AND your old clothes, in the New Year!....
Sharon