Experience Box Spain
by Rocio
(Estepona)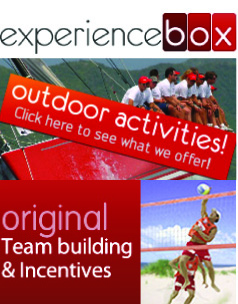 You can easilly make the most of your stay in Andalucia by taking advantage of our Holiday Planning and Travel Services. Browse our 450 activities in Southern Spain and call us to check availability and book. You can also come and visit us at our office in the hotel Crowne Plaza, in Estepona East, and purchase your activity voucher directly.


Experience Box is a leading provider of experiences for individuales and groups activities in Southern Spain and Mallorca (Balearic islands). We offer an easy and secure way to book your holiday and leisure activities, via vouchers valid for 12 months !
To help you find the activities of your interest, this website proposes 10 subcategories : Flying activities, Driving experiences, Pampering treatments, Adventure and adrenaline, Watersports, Escapes, Lifestyle, Gastronomy things to do, Learning opportunities and VIP services.
Call us, email us or come and meet us !
Our holiday planning and activity booking services include, for example :
Guided tours of the Alhambra Palace in Granada
Pampering treats
Yacht rental and charters
Excursions and cultural visits
Group activities, incentive sna team building
Fun and sports activities (Canyoning, horseriding, etc)
Track days at Ascari, MonteBlanco, Guadix or Jerez
Gastronomic experiences (diner, wine tasting, olive oil discovery, etc)
Private taxi transfers on the Costa del Sol
Days out and nights out
Hens and stag parties / week-end breaks
Hotel accommodation (couples, groups, families, etc)
Golf tee times
Experience gifts
Deep sea fishing tours
Exclusive activities (boat charters, luxury car hire, etc)
Sailing lessons and regattas
Special events (weddings, parties, anniversaries, etc)
Let us know what your wish list is and we will take care of it all. With our hand-picked quality experiences you can rest assured your holiday will be one to remember. Simply contact us via phone or e-mail and we will suggest and arrange any activity or experience you would like to do.
If you're staying only a few days, make sure you check availability of the experience before buying it online.