Excerpts from Zarzeula given by Grupo Vocal Lirico
by Morris Bishop
(San Pedro de Alcantara)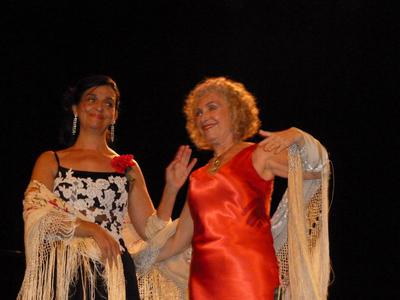 Rosa & Isabel
You may well ask 'what on earth is that'? It was only because we knew the group from past performances, that we ventured into the realms of traditional Spanish Operetta.


We hadn't the remotest idea what to expect, but on the basis that the voices and the music were going to be more important than the story, we attended the Teatro de Ingenio in San Pedro de Alcantara on 22nd, October To find out what is was all about.
We had researched Zarzeula a little, and found that it was akin to the operettas of Gilbert and Sullivan, and of the French Opera-Comique, with a mixture of both dramatic and comical songs intertwined with a spoken recitative all accompanied by Instrumentalists. What's not to like!
The performance was given by Maria Rosa Perez Diaz, mezzo, Isabel Canas, Soprano and Fernando Luigi Marques, tenor, accompanied Juan Jesus Peralta At the piano. who also gave accomplished solo performances of Dance Espagnole from the opera La Vida Breve (Life is short) by Manuel de Falla and Dance Andaluza by Enreque Granados.
The first half consisted of romantic and dramatic songs, and the second half was devoted to comedy. All the artists acting ability were put to the test, such that we gained more than a smattering of what was going on. It would have helped however, had we had a synopsis for each of the song in English. But really, one attends Italian German and French opera's for the shear enjoyment of the music and the singing, so why not in Spanish? This was a new, and most enjoyable,
experience, but I fear that we were probably the only Brits there!
The Group have a Christmas Concert at the same venue on 21st, December 2013 – for more information ring Rosa on 606962563 If you would like to be on their email list send a note to me, mobidata@gmail.com