Emmanuel Ray to attend Pre Cannes Film Social in Jewel, London Covent Garden
by Tsvetelina Ilieva
(London)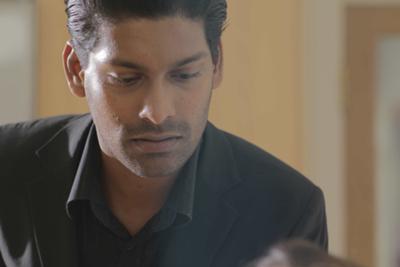 Emmanuel Ray as Ravu, the silent assassin in Dumar movie. Photo courtesy Fruit District Films.
On 2nd May 2012, Emmanuel Ray will attend the Pre Cannes Film Social at Jewel Covent Garden hosted by actress and producer Paola Berta at Sheepish Productions and Beverly Hills UK Film Society and Events.


The purpose of the event is to create a public relations and development platform for filmmakers and artists that are keen and ambitious about taking their projects to a consistent level of recognition and publicity. Some of the film trailers being screened on the night have been selected for Cannes Film Festival 2012.
"I never miss an event hosted by Paola Berta. It was at the Pre Cannes film party she hosted last year in collaboration with the UK Independent Film Trust that I met producer Aaron Thomas at Fruit District Films who offered me the role of Ravi, the silent assassin in his upcoming movie Dumar. I immediately accepted," said Emmanuel Ray.
"Actress Karyn Louise, who also runs Ruby Photography London, assisted Aaron during the first shooting schedule of Dumar and introduced me to him. The best thing about these events is that everyone's connected to everyone through someone that knows someone else - networking at its very best!" he added.
Film industry professionals in attendance will include Mac Chakaveh (President Marbella Film Festival), Ross Boyask (Stealth Media Group), Robbie Moffat (Producer Pam Tree Films), Howard J Ford (The Dead Latitude Films), Pilli Cortese (Waves WO-HO! Films), and Si Wall (Consequence Masive Films) with the film's lead actress Katie Richmond.
Actresses Montanna Thompson and Valeria Bandino, Westfield's Style Icon of the West Midlands (2011) winner & model Philippe Ashfield, S Club's Tina Barret and TV Host/DJ Normsky will also be in attendance. Artists to be performing on the night are Belly dancer Saeeda, Rapper & R&B singer Steelo and Paul Wiffen launching his new album Venice Love Songs.
Films to be showcased at the evening are Blackout by James Bushe (Fashination Pictures) and Rose by Quiet House Films, official selections for Cannes Short Corner 2012. Fish by Charlotte Knowles and Brian Hutton's One by ATP Media. Dear Mr Cameron, a film by Martin Denham for Kay Productions addressing the political reasons behind the London riots, will also be screened.
Every year MSFT MANAGEMENT and DYSTHLEXI produce a festival of work by dyslexic story makers. The trailer of a film about creative dyslexia will be presented on the evening.
Lennie Varvarides, founder of MSFT MANAGEMENT & Casting Agency will be in attendance to raise awareness for the cause.
Paola Berta, founder of Sheepish Productions had the following to say about the event;
"We constantly connect with both established and emerging professionals in the independent film industry; directors, producers, actors, script writers, technicians and so on. Distributors, buyers and financiers from around the world also attend our events and when I attended Cannes Film Festival last year, I did a lot of networking."
Beverly Hills UK Film Society & Events was established in order to co operate with established film companies and help emerging talent in the industry to produce, screen and premiere their projects. The company also provides complete events and public relations solutions, creative development, consultancy, introductions to film finance solutions and networking for industry professionals