Early Booking Winners Announced for The Millionaires Annual White Summer Party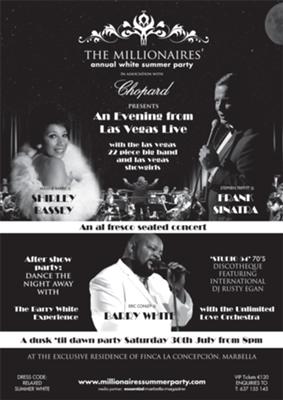 Six lucky winners have been selected at random from those booking their tickets for The Millionaires Annual White Summer Party before 1st July. Not only have they secured their tickets for the most hotly anticipated concert of the summer, but they have also won some great prizes. Organiser Caroline Hallett has offered a big thank you to all their participating businesses for providing such excellent prizes and passed her congratulations to the winners.


Winner of the meal for two at La Sala is Wendy Salisbury, author of The Toyboy Diaries 1 & 2 and La Inglesa y el Torero. She said she was delighted to have won the meal and looking forward to the event. Other lucky winners include, Lucy Monje, Sonia Sierra, Daniel Pastor and Miguel Angel Berenguer Sanchez.
Tickets are still available for The Millionaires White Summer Party on July 30th but they are selling fast. You can buy your tickets online at www.millionairessummerparty.com or visit Manolo Santana Tennis Club from 2pm and 7pm Monday to Friday to purchase your tickets or collect those bought on-line.
Millionaires White Summer Party at a glance
* Date: Saturday 30th July
* Venue: Finca la Concepción, Marbella
* Glamorous garden party and concert from dusk til dawn
* Champagne reception with canapés from Goyo
* Presented by Oscar Horacio of "Marbella Te Quiero"
Part one - Seated concert with performances from Stephen Triffitt as Frank Sinatra and Maxine Barrie as Shirley Bassey, accompanied by a 22 piece Big Band Orchestra
* Performance from a troupe of Las Vegas dancers
Part two - After show party headlined by Eric Conley and the Love Unlimited Orchestra as The Barry White Experience. Followed by DJ Rusty Egan playing Studio 54 Disco classics to get everyone dancing.