Dutch Expo in Marbella - 30 June 2015
by Marbella Family
(Marbella)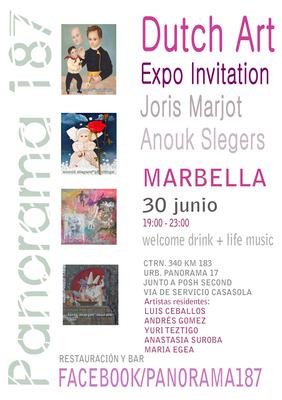 Dutch Expo in Marbella
You are invited to the opening of the art exhibition of Anouk Slegers and Joris Marjot, in the creative art studio, Panorama 187 in Marbella.


Panorama 187 is a new creative concept, initiated by Andres Gomez that brings creative and culture-orientated people together with art, dance, drama, music and - of course - nice food and a good glass of wine in a Bohemian setting.
One can rent Panorama for an art exhibition, private diner party with art. Children paintparties, fashion shows etc.
Panorama has a group of 5 very different orientated artist with a permanent exhibition in the Panorama art studio
Contact
Facebook : panorama 187
Andres Gomez mobile: +34 619 045 392
Joris Marjot mobile +34 639 616 300
Email: beautifulworlddesigns@gmail.com
About the Artists
Anouk was born in a Dutch art collectors and trading family and wanted to become an art restaurator. However, it was only after she moved to Spain 15 years ago and followed studio lessons with the famous Malaga based classic painter , Juan Bejar, that she got familiar with the old masters techniques and decided to become a full time painter. Heavily inspired by her mentor but also by Botero, Old Masters, American Folk Art and Surrealists she combines classic images with surrealistic and classical symbols to tell her story.
She uses oil on canvas, raw linen and wood or even printed fabric with labor-intensive layering techniques which gives the paintings a transparent and silky image. Her painting can be classified as dreamy, imaginary and magical contemporary.
Costumer made commissions
I also create costumer made paintings in which I include personal images or symbols so that you can see your own life reflected in the painting. Please feel invited to discuss this possibility with me any time.
If interested you are welcome to visit me in my Studio ( Mi Convento) in Marbella.
For more images and information go to my website:
www.anoukslegers.nl or follow me on my facebook page Art by Anouk Slegers.
Joris Marjot studied at the Institute Superieur de Peinture Van der Keelen Logelain in Brussels, which provides one of the best master degrees in the world of painting and decorating . He graduated in 1986 with a silver medal. Since then, he worked as a decorative artist in Europe. He lives and works in the south of Spain from where he works, worldwide.
Like many artists , Joris settled down in Andalucía because of the light. The light is so beautiful here , it reflects in the houses and gives more freedom and happiness of design and colours.
At the heart of the decorative art are the classic techniques that have been used for hundreds of years, the skill is adapting them to create any style from any period. From 17th century Golden Age until the modern, contemporary design of tomorrow.
Joris Marjot Decorative painters and design consultancy.
Is a small company that works with highly qualified , painters, decorators, photographers, designers, crafts men and architects. If necessary we have the all the skills and a professional team to manage the building or interior design for the whole house, indoors and outdoors.. The studio is in Marbella from where they develop new decorative ideas and where murals and paintings will be designed and created.
Apart from the decorative paintwork, Joris also creates his personal art. He loves to show the daily life with a touch of humour in his paintings.
For personalized paintings he will make a plan, together with the client.
Tailor made and unique ! For further information contact:
Contact
E mail: beautifulworlddesigns@gmail.com
Facebook: Joris Marjot
Tel : +34 952933327
Mob: +34 639616300
Jorismarjot.blogspot.com
Jorismarjot.com
Studio: panorama 187,29600 Marbella,