Dolphin Adventure Gibraltar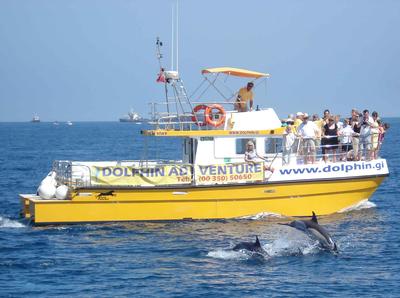 We offer Several trips daily into the Bay and Strait of Gibraltar to see dolphins wild and free.


There are hundreds of dolphins in the area that naturally come close to the boat playing in the waves, often leaping clear of the water in breath taking acrobatic displays.
Dolphins are naturally curious and playful, it is often difficult to tell who is watching who! A totally amazing dolphin experience for the whole family that you will remember for ever ...Don't miss it!
Our aim is give you the best possible views whilst maintaining a neutral level of intrusion to these beautiful creatures.
We are based in Marina Bay Gibraltar within a family friendly pedestrianised environment .
Parking is conveniently close by and there are shops , cafes , restaurants and bars within the complex .
BOOK NOW!
Dolphin Adventure
Marina Bay
Gibraltar
Tel: 00 350 200 50650
info@dolphin.gi
www.dolphin.gi