Dinner at Prado Halcones Restaurant
by Morris Bishop
(San Pedro de Alcantara)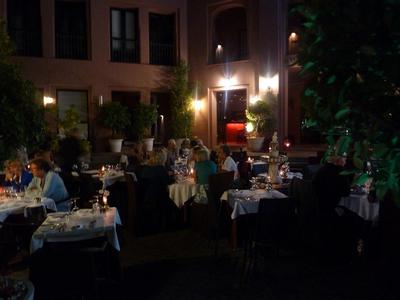 Prado Halcones at night
Dinner at Prado Halcones Restaurant, CC Monte Halcones, 09/10/2013


First things first, MAKE A BOOKING, because that's the only way you'll be sure of getting a table.
This is October after all, and the central terrace was full, with second sittings yet to come!
The successful formula is based on a three course fixed price menu of 19.50 euro served in very pleasant surroundings, using nice linen, cutlery, & crockery, and by staff that were seeking to please.
OK, in the cold light of day, the terrace is in fact the forecourt of a bank, the fixed price menu has a cover charge and IVA to be added, (3.50 euro) plus drinks and tip, say a further 7 euro, the likely average total will be 30 euro - but the food you are going eat, served in the way that it will be, has a value far in excess of this. So I forgive them for their 49.99 syndrome.
The menu has 14 starter options, 14 mains, and 5 or so desserts. Sceptics amongst us may think, that for this price, the portions would be small, or that inferior quality produce will be used. Not a bit of it, in fact the presentation and flavours' achieved were well up to standard.
Some of the food we ate was Beef Carpaccio, Home made tomato soup, Asian duck salad
Baked Camembert, Entrecôte steak, Confit of Duck, Grilled Sole, - I find it very hard to fault any of them.
For a full list of starters & Mains see menu photo.
They also have an a' la carte menu – though I would think, with the selection available on the table d'hôte menu that this was rarely used
This restaurant falls into the category of 'if I don't keep it secret, it will become impossible to get a table', so, from this, you will gather that we will return, and return, and return!
The vital stats:
This 70 cover restaurant is open for Dinners only 7 days a week, and you can make a reservation on 95278 3458 or email pradohalcones@yahoo.es
It is a pity that their web site is somewhat dis-functional.
To find Prado Halcones Proceed up the Ronda Road past El Corte Ingles distribution centre on the right, then, about 2.5 km further on, after ignoring the left fork into Los Arqueros, turn right into Centro Commercial Halcones and the restaurant is immediately on the left.
Bishlin marks out of 5:
ambience 4,
food 4,
service 4,
menu 4,
value 4.5,
O/A 4