Day Trips from Marbella THE BULL ROUTE
by Toro es Cultura
(La Dehesa)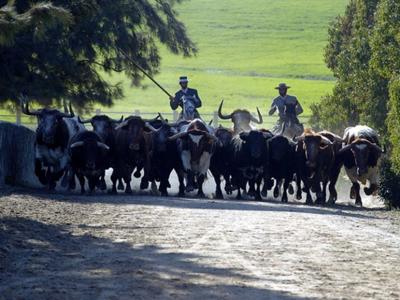 You will learn about the breeding of the Spanish Bulls and Horses in their natural environment. La Dehesa is a forest covering over 500,000 hectares, which forms one of the most important ecological systems in Europe. The tour will take you to 'A Campo Abierto' (Open Countryside) of Alvaro Domecq.


Enjoy the best imaginable theatre and the freedom of the Andalusian countryside. Spend a day in the life of these magnificent animals.
You will encounter and experience:
•The Spanish Bull
•Cows and their calves
•Halters in their usual occupation as guides
•Mares with foals
•Working horses and riders in traditional dressage and the High Spanish School.
You'll see the natural beauty of La Dehesa, various parts of the life of the Spanish Bull, horses, ox, cows and other animals in the ecological system of the bull. You will hear the songs of the birds, the lowing of bulls and ox, the neighing of horses, the sound of bells ... and the silence of the Andalusian countryside. Smell the aroma of the wet earth and dry herbs. Your skin will feel the caress of the wind and you will taste the good wine of Jerez with Friends.
---
Viva Andalucia!
A fantastic opportunity to see José Soto 'Sorderita' and his friends from Jerez perform at the Golden Goose in Marbella every Saturday Night during August organised by El Toro Es Cultura. José Soto is one of the founding members of Ketama, a true Flamenco artist. To enhance your Andalucían experience, why not book a table and taste the typical tapas from the region, specifically selected for this occasion.
Dinner & Drinks - only 50 Euros (limited availability)
Reserve Your Table Now: +34 671 709 525 o info@eltoroescultura.com